December 09, 2008 12:38 IST
Last Updated: December 10, 2008 17:35 IST


I've been putting off writing this column.

Living in Mumbai at a time like this, writing about movies just seems far too banal. We need to make our voices heard about the terror attacks, the aftermath, the suggestions aside from the impassioned platitudes. Yes, of course we do.

Yet, speaking purely for myself, it's far too soon to claim any sort of perspective. You, me and everyone we know have comments, questions, solutions, and even as 'carpet-bombing' becomes the phrase of the week, I'd rather wait awhile instead of making like our politicians or newsanchors and gargling with my sneakers. So we'll talk about it all, but not just yet.


Instead, I'm going to tell you about a little film that released on the worst Friday possible. And it just happens to be the finest film of the year, by far. It's tragic how little it's been seen yet, but I urge you to change that, and make this film as fortunate as the name of its protagonist.

Because it's in-freaking-credible, and enjoy it as soon as you can.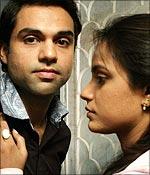 Say Mercedes. Yeah, like in the car. Out loud, say it. Now say it minus the second E, replacing the S at the end with a longer ee sound. That's right, Mers'dee. Over the years, the Delhi [Images] Punjabi collective has appropriated Mr Benz's luxury automobile and made it their own, like they do to virtually everything they touch. If they use anything enough, it becomes not just a part of their universe but a familiar purza, a localised cog they can deal with. Prada may sound too highfalutin', but mention Pradda-shradda and they know way more about the brand than the Devil ever did.
Lucky Singh, the cheeky anti-hero of the wonderfully named Oye Lucky! Lucky Oye!, appropriates things just like his clan, only more literally. He takes what he likes, from a police motorcycle to a pomeranian, luxuriating in the justified arrogance that he's too good for anyone to not just catch but catch upto.
And while conman movies are a dime a dozen, Lucky doesn't just pocket stuff. He filches dreams and moments and opinions and taste, and that's what makes this character so darned special. From snippets of out-of-context conversation to liven up his dating account to ordering a screwdriver at a bar to going off into the snow for a holiday, Lucky's entire life is made up of regurgitating moments he's seen around him. Constantly taking snapshots with a keen eye and a photographic memory, he re-contextualises them in his own life -- wherein, just like the Mersdee, they immediately become his and his alone.
And while this is a film laden with subtext and allegory -- so much so that Lucky's imagination forces the director to cannily cast the same actor in three roles, as a disappointing father and two disappointing father figures -- it cannot be stressed enough that this is a film about feel, about real characters in a staggeringly real slice of Dilli. As one Dilliwala Bangali to another -- even though neither of our folks has presumably been arrested in Kolkata -- here's a high-five, Dibakar.
Right from the varied accents to the lingo, from the girl at the greeting card store to the supercilious waiter, from the street kids to the frequently-drunk dancing girl, director Dibakar Banerjee nails it. (Manorama Six Feet Under director Navdeep Singh has blogged about how self-assuredly Banerjee plays it, by getting into the heart of Delhi but never worrying about familiar landmarks.) And so astonishingly fine is Banerjee's attention to detail that we laugh not out of punchline but out of familiarity, out of how refreshingly unfilmi these characters are.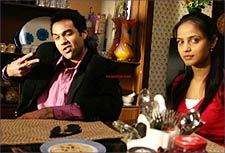 The greatest thing about a filmmaker who knows what he is doing is in observing just how good he is at going against the grain. Banerjee throws spanners into your train of thought with great relish, every scene quirked up so you really can never predict what's going to happen. In the big picture, sure, you can call this a plotline bereft of twist, but a gasp-provoking reveal is small fry compared to a film which constantly surprises you and makes you smile. Just when you think you have figured out how a particular scene will turn out, the carpet is pulled out from under your idea's feet. It's great to be caught so off-guard so often, and the only reason it's delightful instead of disturbing is because the characters are magically good.
I haven't mentioned the actors yet, and it's not because they aren't good. Perish the thought, they're bloody excellent. It's just that film is one of those rare gems where the characters completely overwhelm the cast. Peopled by a slew of unfamiliar faces dripping with, well, character, this film boasts of an ensemble to die for.
Download Ringtones and Wallpapers!
So excellent are Young Lucky (Manjot Singh) and the coy girl from the aforementioned giftshop that you want to see just their story instead of Lucky growing up. Everyone's cast perfectly, and one suspects there are a significant number of non-actors deftly guided into immaculate performances. I just wish I knew all their names, I'd like to applaud each one of them. Manu Rishi makes for a fantastic sidekick named Bangali, and Neetu Chandra is fabulously believable as the no-nonsense (yet double-standards) Sonal -- and this after her entry in the film is the most modest I've seen for a heroine in ages.
Paresh Rawal [Images] is a bit of a disappointment, the actor doing well but being overshadowed by virtually everyone around him. Of course, it's hard for him to get away from being the only experienced face we know in the whole production, but his Sikh act never takes off and, even as the other roles are effective, he seems to be caricaturing while the others play their bits dead straight.
But we're in very good hands with Lucky. This is a film resting on Abhay Deol's shoulders, and the actor is plain fantastic. Lucky, the cockiest leading man imaginable, is all about overconfidence and a persistent 'Why? Can't I?' defiance. Deol is superbly inscrutable through most of the film, and while he makes it hard for us to read him, he makes it equally easy to be bowled over by him. He's utterly unflappable and constantly on the move, stealing before he thinks and making it up as he goes along, but he also displays much angst and wistfulness and pent-up frustration. He hungers for a greater challenge, and even an audience, clearly feeling his craft deserves applause. The fatal flaw is obvious, but the character is anything but that. And Deol is smooth as butter through every bit of it.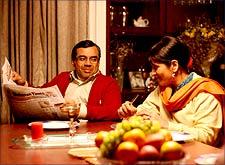 Hang on, am I making the film sound too serious? Rest assured that it's not. The opening titles are gloriously funky, the choice and use of music is a work of wonder and whimsy (take a bow, composer Sneha Khanwalkar, wow), and a significant amount of this film is so disarmingly charming that you'll be smiling throughout, even when you aren't rolling in the aisles.
And it has some dialogue gems. My absolute favourite is where Rajinder Sethi, who plays a television anchor doing a sensationalist news show on a Hindi channel, calls for a cut after repeating the oft-emphasised word 'sansani-khej' ('sensational'), one of those words these anchors constantly use, with exclamation marks built in.
'How many times am I going to say it, yaar?' he groans to the cameraman. 'It's become such a habit that the other day the wife asked how I liked her cooking and I replied sansani-khej.'
And yet the genius is not merely in the line, or its delivery, despite both being spot-on. You did know most of those guys actually on TV are out-of-work theatre actors, not journalists, right? It's a lovely aside to see one of them ranting vociferously about something only to cut himself off and reveal that it's merely another acting gig, he's tired and sweaty and jaded, and yeah, he's just going through the motions.
I've seen the film twice this week, and dig it more every minute I think about it. It's not enough to call this a comedy, it being a full-fledged character study, as fleshed out as it gets. It's not enough to call it the finest film of the year, because a humdrum year like this doesn't do it justice.
All I can say is -- after very gratefully handing it four and a half stars, in case you asked -- that this is a movie to love. And one that makes the audience feel just like the hero: really, really lucky.
Go watch the film and tell me what you thought. As for the cruel Reader's Review Challenge from last week, am totally loving your entries so far, please keep them coming. For all that or absolutely anything else, I'm around at senterfold@rediffmail.com