Among the many superheroes that fly, swing and bulk, our man Frank Martin can not only drive fast but here he can also ride a bicycle, strip-fight and maneuver his darling Audi with equal finesse.
Well, if that's what it takes to maintain a 100 percent successful delivery rate, then the reticent Jason Statham is 'the man' and we are all eyes. And ears.
Transporter 3 sees Statham return as Frank Martin. He has now relocated to Paris to continue his chore of delivering packages. Only this time, someone else is making the rules as Frank faces a race against time to safely deliver his latest consignment.
It turns out to be a freckled stunner, (Natalya Rudakova) daughter of the head of the Ukranian Environmental Protection Agency who is being blackmailed into signing a pro-environment legislation.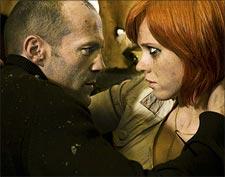 Forced once more behind the wheel after a job he tried to pass off to a colleague Malcolm (David Atrakchi) goes bad, Frank needs to deliver Valentina alive. The trouble is both Valentina and Frank are strapped with an irremovable metal bracelet that will explode if they get 75 feet away from the vehicle.
This time though things get way too personal. Frank breaks one of his many rules and learns a lot about his 'delivery' to the extent that they develop feelings, which brings us to one of the flaws of this film -- the pace at which the film bobbles.
Wrecked by terrible pacing the film wastes much of its tension and tempo simply because it doesn't know when to move on to the next thing. The sham romance between the couple could have been made more tempestuous and fierce keeping the genre of the film in mind. Which makes us wonder if the director in anyway was trying to pull a 007? If he did, then it fell through leagues and leagues apart.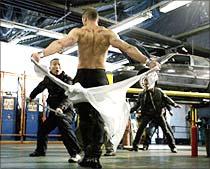 You don't expect or rather pay attention to the plot and storyline of such a franchise because all you come to see is Statham behind the wheel, which in this caper is poorly evidenced. The fist-to-face brawls are lively but more stylish than effective and fails to help Statham who is all dressed to kill. The fight scenes are well creased albeit trailer-like and Rudakova is merely a killjoy. The climax=ordinary.
Honestly, there was more car-candy in Death Race than this bicycle run (but hey, that was good change).
Keeping the tradition alive, new director Olivier Megaton, handles the franchise amateurishly. And Statham fine-grained as ever has never sinned as an actor. His repertoire of good performances ranging from Lock, Stock and Two Smoking Barrels, to Snatch and recently The Bank Job simply goes to show he needs better packages to 'deliver'.
In short, what the franchise lost in the sequel (Transporter 2) has managed to retain its zing with Transporter 3. And there is no denying that in spite of a this rating Transporter fans are still going to flock to the theatres. But my advice would be to try and restrict this strictly to a DVD rental.
Rediff Rating: