| | |
| --- | --- |
| Mandira Bedi and Anil Kumble in Meerabai Not Out | |
| | |
| | |
| | |
| | |
| | |
| | |
December 05, 2008 17:01 IST


What one sees in movie posters and billboards is not necessarily what one will see in the film itself. That's what I realised when I watched Meerabai Not Out. For instance, Mandira Bedi [Images] does not wear the Indian cricket team jersey or noodle-strap sari-blouses that we've seen in the posters. Instead, we see her in churidhar, kurti and cotton dupattas throughout the film. And no, there's no bedroom scene with Anil Kumble [Images] in the film.

 

In fact, we see very little of Kumble. He appears in only one scene, for barely 10 minutes.

 

So what is Meerabai Not Out about? The film is not about cricket but it's about Meera Anant Achrekar's (Mandira Bedi) passion for the game, and love for Anil Kumble.

 

Meera is a school teacher, who teaches Mathematics. She is a popular teacher, as well as popular in her chawl. She teaches the boys in her neighbourhood the different techniques of cricket. Her team is also nicknamed Meera's Eleven.

 

Meera's family, including her brother Mahesh (Mahesh Manjrekar), are worried for her, as she has no interest in getting married. That is, until she meets Dr Arjun Awasthi (Eijaz Khan). They fall in love but soon, Meera's passion for cricket ruins her romance.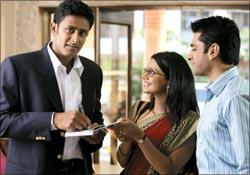 Meerabai Not Out reminds you of the charming old time serials like Khathi Meethi Baatein, Kachchi Dhoop and Hum Panchi Ek Chaal Ke, where everyone knows everyone else because of the common balconies in the chawls.
Mandira Bedi and Eijaz Khan have done their job well but Anupam Kher [Images] and Mahesh Manjrekar are wasted. The film has some good comic scenes, and director Chandrakant Kulkarni does well.
But the film is not a comedy, not a love story, nor a family drama, or even a sports film. But it entertains you in bits and parts. And if you're a Mandira fan, watch the film!
Rediff Rating: