| | |
| --- | --- |
| A Still from C Kkompany | |
| | |
| | |
| | |
| | |
| | |
| | |
Advertisement
August 29, 2008 15:24 IST


What was director Sachin Yardi thinking when he made C Kkompany [Images]? The senseless film is simply a marketting tool for Ekta Kapoor [Images] and her 'K' soaps. The television producer and many actors from her serials are amply showcased here.

It's difficult to judge which genre this film belongs to. It cannot be a comedy -- the jokes are terrible. It may have qualified as an action film, since it involves the underworld. But there is really no action to speak of here. Can we put it in the Drama category? Well, the film has drama, yes. But it's the type that makes you want to pull your hair apart. By intermission, you are at your wits' end.

C Kkompany is about three losers Akshay Kumar [Images] (Tusshar Kapoor), Ramakanth Joshi (Anupam Kher [Images]), Lambodhar (Rajpal Yadav), who need money desperately.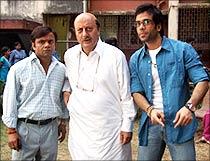 Akshay, a crime reporter with Zee News [Get Quote], is in love with Priya (Raima Sen [Images], sister of underworld don Dattu Satellite (Mithun Chakraborthy, in a terrible role). Dattu is an ardent fan of Ekta Kapoor's serials. He hosts parties frequently just to express his love, especially towards Sakshi Tanwar [Images]. Tusshar needs money to marry Raima and run away from the underworld.
Anupam Kher plays an old widower, a dependant on his son and daughter-in-law. His son illtreats him and tries to convince him to work as a watchman in a construction site. An upset Kher goes to the lawyers for justice, and needs money to survive.
Rajpal suffers from a severe inferiority complex because of his height. His wife and son don't seem to respect him. He works as an entertainer in a surbuban mall -- where he has to wear a hen's mask. He is fed up of life, and needs money to prove his worth to his family.
The three plan to threaten Kher's son for Rs 1 crore. The prank turns serious and they form a gang, C Kkompany. The gang becomes popular among the public, and the underworld.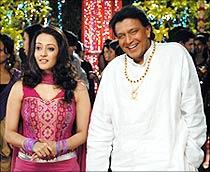 Celina Jaitley [Images] is a total misfit in the film -- her item number does not have any relevance to story, if we can call it that. The same goes for Sanjay Dutt's [Images] special performance.
Rajpal and Anupam do well. But Tusshar must really give up acting, and spare the audiences.
Music is average. Bappa Lahiri, Anand Raj Anand and Mika Sigh did not seem to try hard enough to grab the audience's attention.
C Kkompany is such a terrible film that it really does not deserve any stars.