| | |
| --- | --- |
| A still from Chamku | |
| | |
| | |
| | |
| | |
| | |
| | |
Advertisement
August 29, 2008 16:56 IST


The 9am show of Chamku [Images] at a suburban Mumbai multiplex was cancelled because no one showed up, except me. I have no choice but to make another trip for the next show. This time, I am told unless they have at least six people in the audience, they cannot screen the show. I argue that if you keep denying tickets like this, obviously there won't be anyone left to watch the movie. After a heated argument and much-needed intervention from three other guys, I finally obtain a ticket to the screening.  

Sadly, quite early in the film, I realise how worthless the entire exercise was.

I mean, what can you say about a film whose idea of realism is Bobby Deol [Images] in a three-day-old stubble?

Too often ridiculous to be taken seriously, Chamku works so intently at being contrived that it neither touches the core of its issues nor the psyche of the individual it revolves around.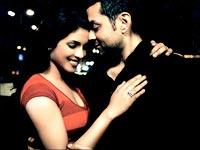 Unlike the offbeat Aamir or commercially viable Gangaajal, which presented both the psyche and reality of an existent, ruthless scenario with subtle irony and strong subtext, Chamku offers the same old Bollywood saga of revenge against the backdrop of socio-political nexus.
It's like just when you thought the age of sons avenging the murder of their famer daddies by the resident Thakurs is over, Chamku strikes.
Somewhere in this vicious circle of flashbacks, Chandrama Singh (Bobby Deol) grows up to be Chamku and later Chaman Verma, wherein he discovers a motive for vendetta in Akhilendra Mishra (so loud he could explode), Russian communism-inspired father-figure in Danny Denzogpa (charismatic as ever), a manipulative employer to terminate anti-social elements in Irrfan Khan [Images] (lending sly dimensions to an otherwise vague role), assassin buddies in Ritesh Deshmukh [Images] (brutally wasted) and Rajpal Yadav (Avtar Gill could have played him and that's no joke) and three-months-of-dating-pregnant-already romance in Priyanka Chopra [Images] (After God Tussi Great Ho [Images], Priyanka squanders away in yet another meaningless role that asks nothing of her except daft giggles and knotted-blouses of glamour.)

By the end of it, you are so thoroughly anesthetized by Chamku that his name could be Champak or Chameli, for all you care.Then again, when a movie bears such a peculiar title, it has to have some relevance or underlying significance to the subject. Or maybe the moral behind these mundane six reels is: Here are some of the horrifying implications of naming your child Chamku.

Jokes apart, director Kabeer Kaushik disappoints big time. It seems like Sehar and Chamku were directed by two different entities. His work here is utterly amateurish and rushed-up. The screenplay is shoddy whereas the dialogues are an excuse for mandatory exchange (which by the way are so sluggish in temperament they scream for a pair of scissors)

Clearly, Kaushik is unable to lend any novelty to the triteness of it all. Also, instead of accenting or enhancing its topic, the twitchy cinematography (by Gopal Shah) fools around with needless techniques like the constantly fade-to-black cuts, which
are decidedly off-putting. Even Monty Sharma who impressed us with his lavish score in Saawariya [Images] is totally out of sync with Chamku's blood gore-filled universe.

All in all, it's a pity, considering Kaushik showed genuine promise. There's nothing more hopeless than a film that doesn't believe in itself, which meanders meaninglessly to fritter away actors, misuse their stardom and talent in dumb parts or shove in bland item numbers. Chamku personifies just that.

Its soul-lacking narrative shows no sign of earthiness or grit. Besides Bobby Deol isn't that brilliant actor to pass off for a Bihar-born Naxalite. Especially when he struts around Marine Drive in stylish leather jeans, leopard print shirts, aviator sunglasses, tribal pendants and drives a posh Mercedes. His chubby-cheeked intensity makes an earnest effort though. Unfortunately for his potential, the film is firmly fixated with projecting him as The Hero -- cool deadpan expressions, lean voiceover (that speaks more than his character in the story), designer wardrobe)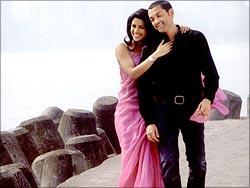 Doesn't work! Bobby looks visibly bored and sleepy. Can't blame the poor fellow. By the end, so do you.
Rediff Rating: