Home > India > Movies > Reviews


Discuss |
Email |
Print | Get latest news on your desktop

Out of Breath

Elvis D'Silva | August 22, 2008 16:06 IST


| | |
| --- | --- |
| A still from Phoonk. | |
| | |
| | |
| | |
| | |
| | |
| | |
You know the premise, you've seen the promos on TV and the layered posters all over your town. You know that Ram Gopal Varma has followed up his last effort dramatising the underworld with another horror offering. You know that this one is supposed to have its roots in black magic. You know that the cast comprises of faces largely unfamiliar to Hindi movie audiences. You know that the filmmakers challenged people to watch the movie alone in a theatre, without getting scared, to win a decently hefty sum of money.
With so much knowledge already available, what should one make of the film itself?
The movie begins with Varma's stocks-in-trade of shadowy places and unnerving sound design and proceeds from there into a tale of a family comprising of father Rajiv (Sudeep), mother Arati (Amruta Khanvilkar) and their children Raksha (Ahsaas Channa) and Rohan (Shrey Bawa) as well as Rajiv's mother (Jyothi Subhash), who also lives with them.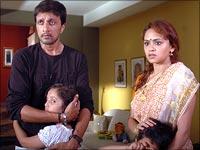 Rajiv is a successful builder whose atheism is established early on when he refuses to allow workers at his construction site to build a small temple to commemorate a stone that they believe resembles Lord Ganesh. Rajiv is assisted in his work by the decidedly shifty looking Anshuman (Kenny Desai) and Madhu (Ashwini Kalsekar).
Everything is going well for Rajiv, at work as well as home. He has a loving wife and two adorable children and even though his mother's obsession with religious television channels and the bedtime stories she tells her grandchildren bother him a bit, it is not enough to take the shine off his life.
That happens when it is revealed that Anshuman has been duping him and his company. When Rajiv insults Madhu and Anshuman, and has them thrown out of his home and company, things start to go terrifyingly wrong for him and his loved ones, especially Raksha.
Phoonk [Images] feels like two different films on either side of the interval.
During the first part, interesting things are done while setting up the family and establishing each member's relationship with the others. Belief systems are established and when things start to go awry, tension is built up well enough so that you will definitely jump a little when things go bump at night.
Interesting questions are asked, like, what is the deal with the creepy driver? And why are the toys and statues within the house always in focus, sometimes at the cost of the living, breathing humans enacting conversations in the blurred background?
And then...It all goes to hell when people return to their seats after their popcorn break.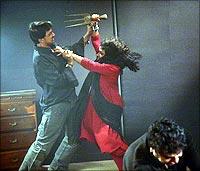 The second half of this film features most of what has come to be regarded as emblematic of every bad Varma film -- character overload, unnecessary repetition of scenes and sequences, disjointed editing, jangling score, rehashed special effects and the most unsatisfying creative choice for the climax. Unsatisfying because it is a cliche and also because it appears extremely irresponsible to go down the path that is trod in this film to solve the problems faced by Rajiv and his family.
The performances overall are decent. Only Kalsekar with her over-the-top television acting and Zakir Hussain with a performance that calls to mind the alien in the first Men In Black movie stand out because of their hamming. On the flip side, the youngest cast members, Ahsaas and Shrey, deserve credit for playing believable children rather than the saccharine monstrosities that have sullied too many other pieces of celluloid.
On the technical end an interesting camera technique is employed (and then overused) to reveal different aspects of the same tableau. That the film features sequences and effects borrowed from Western and Eastern cinema is a given. One of them works pretty effectively, the other one just comes off as comical. Also, it is to the director's credit that he manages to very effectively toy with the audience's expectations of when a scare will appear, especially in the pre-interval portion of the movie.
Ultimately though, the film doesn't work -- mostly because of the way it ends.
Varma has always rejected any responsibility for influencing audiences through his cinema so he has already absolved himself in print several times over. Still, it feels wrong for a filmmaker as intelligent as he to take his chosen narrative choice over all others that might have been available to him. That, more than anything else, is this film's greatest shortcoming.
Rediff Rating:

Want to see this movie? Check out Rediff Movie Tickets!

Email |
Print | Get latest news on your desktop