Home > India > Movies > Interviews


Discuss |
Email |
Print | Get latest news on your desktop

The Rediff Interview / Nishikant Kamath

Filming Mumbai's fight for survival

August 21, 2008


| | |
| --- | --- |
| Nishikant Kamath | |
| | |
| | |
| | |
| | |
| | |
| | |
After making the critically acclaimed Marathi film, Dombivili Fast -- which he remade in Tamil with R Madhavan called Evano Oruvan -- Nishikant Kamath directs his first Hindi film, Mumbai Meri Jaan.
A sensitive film, Mumbai Meri Jaan is set against the backdrop of the Mumbai train blasts two years ago. The film traces the lives of certain people -- played by Paresh Rawal [Images], Irrfan Khan [Images], R Madhavan, Kay Kay Menon and Soha Ali Khan [Images] -- and how they react to the train blasts.
Nishikanth Kamath talks to Patcy N, and tells us what prompted him to make such a sensitive film.
You have made movies in Marathi, Tamil and Hindi. Any specific reason?
I work for whatever projects come my way, and appeal to me. I don't look into languages.
How did you decide on Mumbai Meri Jaan?
I wanted to write a script for a long time but could not think of a suitable topic. I was out of town when the Mumbai train blasts occurred. When I returned, I saw so many people, who were very shaken, but taking a hold of their emotions and lives. So I decided to base my story on human emotions and their fight for survival, rather than the tragedy.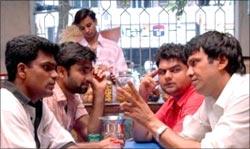 How did you get UTV Motion Pictures to produce this film?
UTV and I have been looking forward to working with each other for a long time. When I got the idea of Mumbai Meri Jaan, I spoke to them and they readily agreed.
The difficult period started later when it took me about nine months to write the entire script.
What research did you do?
The emotional stories were all fictional. I did not want to go up to people, talk to them about their stories and make them feel bad. Besides, this film is about human emotions -- the calamity could have been anything from riots to floods.
I am not talking about the conspiracy. My story starts after the blasts.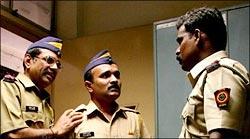 Tell us about Mumbai Meri Jaan.
The film was shot last year during the rains. The shooting was done mostly on the streets. We shot in bylanes and crowded places. Sometimes, it was difficult to shoot because the crowd would become unmanageable. On two occasions, we had to cancel the shoot.
How did you manage to rope in so many talented actors in one film?
That was the easiest part. After finishing the script, I narrated it to all the actors I wanted in the film. Everyone liked it and they were immediately cast.
I am happy with all my actors; I liked everybody's work.
What next?
I have not decided yet. I will not do anything for the next six months or maybe even two years. I work at my own pace. I work when work comes to me and it pleases me.
Email |
Print | Get latest news on your desktop