Advertisement
August 15, 2008 15:03 IST


The surprising thing about Siddharth Anand's Bachna Ae Haseeno [Images] is how neatly understated the humour is.

Ranbir Kapoor [Images] kicks a pebble, annoyed, only to have to apologise a second later to a girl blessedly off-screen. Much later, when his friend suggests he take his girlfriend along when he's moving to Australia [Images], he laughs it off saying that she's an actress. 'What would she do there? Crossover films?' he grins, effectively underlining the derision a film like this has for a genre like that. Because this film is all masala.

Actually, this is all Yash Raj masala, a film based on an old song -- and an old film, to an extent, with Devsaab's great Teen Deviyaan being channeled here somewhat. Bachna constantly refers to YRF films, borrowing plot points and an entire act unashamedly from Dilwale Dulhaniya Le Jaayenge, and with music from Dhoom and Jhoom Barabar Jhoom randomly kicking in, blissfully free of context.

It's a film about catapulting a finely polished 'star' to what the industry feels is his rightful spot in the firmament, and a film that makes no bones out of playing an old Kishore Kumar song a half-dozen times to set the mood in the first half and then doing the same for a new KK song in the second half. So yeah, it's that kinda film.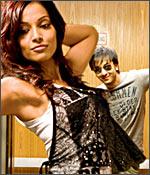 And it's not bad, honestly. Bachna is well-cast, joyously escapist and throws in surprising character maturity every now and then. The fun romantic bits are breezy and click well, while even the much weaker emotional sequences -- which do come across as heavy-handed and presumptous -- throw up a couple of lines of dialogue that show the thought that has gone into the characters and the situation.
That said, it's about 40 minutes too long, the first and the second half feel like they are two different movies -- and one wishes they were. (Lord, could the YRF boys really have missed out on an instant-sequel?) It's also a film shamelessly celebrating the Bollywood bratpack -- and I don't just mean that because Ranbir's character is ridiculously well off, and only works if and when he wants to. I mean that because, in a film named after a song picturised on his father, his character is named Raj like his iconic granddaddy. And like the protagonist in another Europe-based romance.
Aditya Chopra [Images], who wrote this film, celebrates his own DDLJ with such pride it seems almost like a remake, and the film adheres to the YRF basics of lavish locations and a script dripping in Punjabi-pana. So, in this massive family buffet of sons and brothers and fathers and off-screen relationships spilling onto the big-screen, one of them deserves specific attention. And no, I'm not talking about Kapoor's romance with actress Deepika Padukone [Images] (the two do look good together, for the record). No, I think the truly interesting dynamic is the one that comes from Rafoo Chakkar.
The 1975 film based around Some Like It Hot starred Rishi Kapoor [Images] and Paintal as men so romantic they'd wear frocks, and remains a very fun watch. Here, Paintal's son Hiten plays a superbly lecherous fiddle to Ranbir -- and, to a very large extent, this is what makes the film work when it does.
The girls are pretty alright too, overall. Minnisha Lamba is straddled with a character named Mahi, a character that epitomises annoying. She plays a girl just out of school who thinks the night stars are God's lightbulbs and bases her life on wishing upon eyelashes. (Come on now, use your Janice voice and go, 'Oh. Mahi. God.) Despite all that, she isn't bad -- except, like The Hulk, you won't like her when she's angry.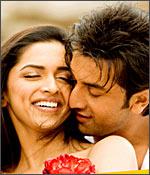 Girl 2 is Bipasha Basu [Images], and the first time we see her in the film, she's lying on her stomach in bed with a shirtless Ranbir wrapped around her. Her character of Radhika constantly shatters conventional Bollywood stereotypes, and she does it more than justice.Not just does Bips look decidedly edible, but hers is the film's finest performance, one balancing spunk and sass with grief and, even, gullibility. It does take a while to try and forget one horridly melodramatic frame, though, featuring her with her arms outstretched to show off the mehndi in her palms, a shot that makes her look like she's trying to get web-fluid to ooze out of her wrists, Spidey-style. It doesn't fire, but the rest of her character does.
Girl 3 is Deepika's Gayatri, a character interesting because she's more of an alpha-male than the main lead. An extremely driven overachiever, she's almost reminiscent of Tom Cruise's [Images] character in Cocktails. She's a cabdriver who not only scribbles down overheard stock tips, but knows her way around an X-box (actually, the Microsoft advert nature of the film could really use some tonight down) and manages to juggle B-school classes alongside two jobs. She's a clear girl who knows what she wants.
Unlike our hero, who's a merry drifter. Ranbir's Raj Sharma, the first time we meet him, is just out of school, and in the mood for some holiday booty. The actor tries a bit too hard with the pre-college enthusiasm, but his easy charm grows on you soon enough, and by the time he's living and working as a game developer in Mumbai, you like him quite a bit. Clearly this boy has been buffed and shined and polished and developed for Stardom, as they say, and he delivers. Women love him, he acts well, and he has the very self-aware ability to look stupid and 'cool' at the same time.
The story is simple. He hooks up with two of the girls and behaves like an utter cad, and heartbreak at intermission point gets him so devastated that he decides to go back and apologise and make amends for the hurt he's caused. So yeah, it's Broken Flowers meets DDLJ with one girl, while the other segment could be titled The Seductress Wears Prada. Again, there is interesting potential here, what with Ranbir playing essentially non-heroic roles just to win over their apologies, but it's hardly explored. The hero comes across as a presumptuous charmer full of trite wisdom and phony-sounding platitudes, and that's a shame when the women actually seem to have not just coherent arguments but clearly developed points of view.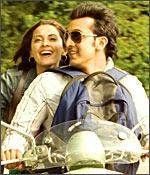 The film's dialogue, actually, is its strongest asset, the lines working realistically on a rom-com level but, more impressively, staying in just the right key -- complete with slang and relatability -- even during the demanding emotional outbursts.
Without giving anything away, the film's major flaw is in how presumptuous the protagonist becomes -- and how the script bends over backwards to vindicate this glaring character defect. It also hints at a level of duality, wherein a player is stung by another player, but this is bizarre because the reason one of the girls turns him down is completely relevant. She wants to live life on her own terms with absolutely no compromise, which isn't exactly comparable to a guy who ditches a chick in a wedding dress.
Bachna Ae Haseeno is well shot, competently performed and the writing shows glimpses of honest-to-goodness subtext and intelligent character development. It's also a film centering around a lead actor, showing off just how much of 'it' he has -- and he has more than a fair amount. If only the second half wasn't as predictable as it is, the film was an hour shorter and every one-liner wasn't accompanied by a burst of background score acting like a laugh track, we could have had a really good film. As it stands now, it's watchable timepass fare.
A decent date film, but one won't blame you guys for walking off at intermission.