| | |
| --- | --- |
| Sasi Kumar | |
| | |
| | |
| | |
| | |
| | |
| | |
Advertisement
August 12, 2008 14:28 IST
Last Updated: August 12, 2008 16:56 IST


One full month has passed since Subramaniyapuram was released without any fanfare by a debutant director with a whole bunch of newcomers. Today the film is declared the biggest blockbuster of 2008.

In the meantime, superstar Rajnikanth's [Images] Kuselan [Images] arrived, but nothing affected the flow of people to the theatres that screened this small film. While the collections of the much hyped Kuselan dipped, Subramaniyapuram is still going strong.

In this interview, Sasi Kumar, the producer-director of the film talks about the tough experience of making a film that he believed in, and also about it's success. Excerpts:

You assisted Bala and Ameer, whom you consider as your gurus. How Bala's first film Sethu and your Subramaniyapuram fared at the box office look strikingly similar. Both the films when first released did not get good theatres but with people liking the film, they have moved from the suburbs to bigger theatres. It has been a slow but successful journey for both the films...

Yes, it is so strange but both the films had the same fate. When I made my film, I knew it would be tough to get good theatres. I knew what Bala Sir went through because I assisted him then. My uncle was the producer of Sethu. So, I knew what was in store for me.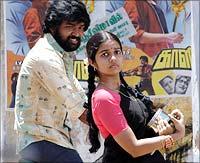 From where did you get the courage to make a film set in the early 1980 and that too with new faces?
I had the confidence in my story. I worked as an assistant with directors like Bala and Ameer, so I had confidence in myself as well.
Did you expect the film to be such a big hit? It is now being compared with how Paruthiveeran [Images] fared at the box office.
I was confident that anyone watching the film would like it. But I must confess that I did not expect the film to be such a big success.
As the director, to what do you attribute the real success of the film?
First and foremost, the story, which was real -- viewers want to see realistic and novel ideas and not only masala films. I think filmgoers are fed up with the routine masala stuff.
When did you realise that there was a change in the taste of the Tamil audience?
No change has taken place in the taste of the audience. They always encouraged good films and they look forward to watching realistic films. What do you attribute the success of Sethu, Pitamagan, Veyil, Kadhal, Paruthiveeran to? Audience yearn for such films but we don't give it to them.
Then what do you say about the huge success of commercial films?
That is because the audience has no other choice. How many films like Veyil and Paruthiveeran are released in a year? There is only one Veyil or one Paruthiveeran in a year. So, they watch and make success of masala films. We should give them more and more good films. It should not stop after Subramaniyapuram. Filmmakers should give more such realistic films. I don't agree with the argument that audience are to blame for masala films.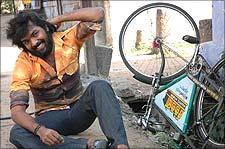 Then why is it that more films like Veyil, Kadhal and Subramaniyapram are not being made?
That is because producers are scared to make such films even today. There are many directors who want to make good films but producers are not willing to back such projects.
Distributors also do not support the ventures of new directors and realistic films. It is they who put the blame on the audience and back masala films. So, producers should change their attitude and support independent filmmakers.
Did you also find it difficult to get a producer and distributors?
I produced the film although I knew the road ahead was difficult. I knew I was undertaking a risky proposition. I started with the assumption that I was going in for a loss. But I wanted to make the film. I am thankful to the media for the kind of support they gave me.
Somehow, there were distributors who wanted to buy my film. I sold all the areas on minimum guarantee price. So, before the release itself, to my surprise, instead of becoming a loss, the film became a profitable venture for me.
You knew you had a different story with you, a winner. To get a producer and distributors easily, didn't you think of making the film with well-known faces?
The film would look good only if we had new faces -- actors without baggage. If we had known faces, the characters would fade away and the actors would dominate, which I did not want. Subramaniyapuiram has a fresh look only because the film has new faces. That way Subramaniyapuram has an identity.
You set the period in the early 1980s. Any particular reason why you chose this time frame?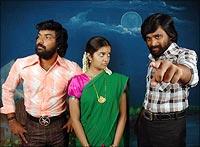 I had to show a part as "after 27 years". If I had to show "after 37 years", I would have gone for the seventies. That was the only reason I chose early 1980.
What kind of research did you do to show the period as authentically as possible?
I spent a lot of time researching the period. I read all the newspapers carefully, collected old photographs including the marriage photos of that time to get the right look. I also watched marriage videos. I bought the cycles, Luna, Lambretta scooter, the auto rickshaws, etc that were all used during the 80s.
The costumes too looked very real...
I watched a lot of movies that were made then to know the style of the 80s. I couldn't get the kind of pants and shirts that were worn in the 80s here in the city. So, I went to the villages and collected the old clothes. 
That meant you took a lot of time preparing for the film...
Yes, I spent more time in pre-production. It took me six months to one year for the pre-production work while I finished the film in 85 days! The newspapers I show in the film had the news of that period. I took special care to see everything was right. Unlike in a historical where you can take liberties, if I had gone wrong anywhere, anybody who crossed 35 would notice because there are many who still remember the early 80s. So, I was very, very careful.
After watching the movie, did anyone catch you with any mistake?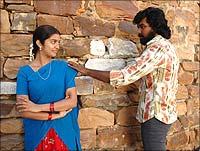 Thankfully, no. Many told me they went to watch it again only to find out whether I had made any mistake anywhere. I was careful about even the telephone numbers that were in vogue at that time in Madurai [Images] -- it was four digits. 
What is the reason you decided to set the story in Madurai?
I am from Madurai so I know the place very well. The story happens in Subramiayapuram in Madurai -- Subramaniyapuram is a common name in Tamil Nadu. You see Subramaniyapurams in most of the cities.
Will we see more stories set in smaller towns or will you move to a bigger city like Chennai?
My next film is city-centric. It is about the city-based youth.
Are we going to see new faces in it as well?
Yes. I prefer newcomers.
Do you feel you can mould the actors the way you want only if you have newcomers? Is that the reason why you prefer them?
Exactly. I don't want my actors to come with any baggage. I want them to be my characters.
Why did you decide to cast yourself in Subramaniyapuram?
Actually, I had no intention to act at all. In fact, I already had two responsibilities; that of the producer and the director. But when the person who was supposed to do the character backed out, I had to step in.
So, how tough was working as the story writer, producer, writer and actor?
Now when I look back, I don't know how I managed all of that.
When did you feel totally relieved?
When the film reached the theatres! I was in the theatre to watch the response of the audience, and I was happy with their reaction.
How did the Tamil film industry react to your film?
Almost all the directors called and congratulated me. That was quite a big morale booster for me. I was happy that they were magnanimous to wish and congratulate another director. Bala came out, hugged me and praised the film a lot which meant a lot to me because he is my first guru.
But I didn't get any calls from any of the artists except Vikram and Silambarasan. But I have no complaints.
Receiving such compliments from the people and the industry, I felt, this one film is enough for me, and I am not going to make another one. I felt I shouldn't be greedy!
Even now, I have no desire to make many movies or make lots of money. I want to make films that I like and believe in. I do not want to make any compromise as a director.