| | |
| --- | --- |
| Meena, in a still from Kuselan. | |
| | |
| | |
| | |
| | |
| | |
| | |
Advertisement
August 11, 2008 16:29 IST
Last Updated: August 11, 2008 16:57 IST


Meena is upset and shocked at the treatment meted out to her in the credits and promos of Kuselan [Images]. Her name comes after Nayanthara even though she is the heroine of the film. In the promos also, Nayanathara is prominently displayed and not Meena.

After all, this is not befitting for a senior artiste, a person who has been in the industry for nearly two decades and the actual heroine of Kuselan. Such behaviour on the part of the production house and director is unwarranted, she feels.

Here's what she told Radhika Rajamani. Excerpts:

Were you unhappy with the way you were projected in the film's publicity although you were the heroine of the film? Even your name in the credits appeared after Nayanthara's? Did you get things clarified before accepting the role?

I have no idea why this happened. Even before agreeing to the role, I did clarify things not once but twice. I called the director personally twice. People would say we don't know, the director is the boss, he's the captain, he did this, he did that -- a lot of things can happen later. So I personally spoke to him asking how it's going to be, what he was going to do, etc, as I did not want to be overshadowed.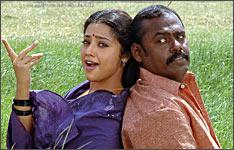 I really don't need that kind of a film even if it is a big film, a big unit or whatever it is. If I don't get my due, I really don't want to do any film. These are the things I spoke to the director. He was like, why the doubt? You are the one. You are the heroine. You have already done it in Malayalam, and it's the same. We are not going to do anything to the role. Of course for the superstar, we are going to make some changes. That was expected.
I wouldn't really say you shouldn't do this and do that because I know the fans of a superstar want to see him in those kinds of get-ups. That was okay with me.
The director said there would be an extra song for me -- a family song which was not there in the Malayalam. I was pretty okay with the whole idea. He was like, please don't worry; everything will be taken care of. Finally I agreed. That was because I knew my character was main one in the entire film.
In Malayalam (Kadha Parayumbol) you did not have the character played by Nayanthara at all...But you were aware that this character was there in the Tamil and Telugu films when you signed it...
It's not that I am sharing the screen space first time with another heroine. I've done a lot of films with two heroines but nowhere have I ever gone through such an experience (like in Kuselan). Sharing screen space with another heroine is nothing new to me.
Actors playing guest appearances and friendly appearances in my movies is also not new to me. So I was okay with it. But I really didn't expect it would turn out this way at all.
You did the roles in both Tamil and Telugu with different heroes. What do you feel right now about the whole issue?
I feel upset about the whole issue but not about the shooting part. I am upset because whatever was promised to me was not fulfilled. They didn't keep their word and I really didn't expect this from people of their calibre.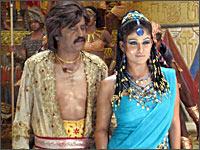 Do you want to do something about not being recognised...
There's no point talking about whatever happened. It's below my dignity. But I am pretty shocked and upset about the whole thing. I really didn't expect this from such people.
It is such a simple beautiful story in Malayalam which has been converted to something else in Kuselan. Are you really happy with the end product as far as the Tamil and Telugu versions go?
Yes. You have to take one thing into consideration; the superstar -- his image and his fans -- something you have to be really very careful about when you make such a movie. You know about his vast massive fan following all over the world. With his image in mind, they made some changes and I don't think I can really comment on that because that's what the audience wanted to see.
But the content is the same; towards the second half and towards the end, it's the same. There was so much emotion that everybody had tears in their eyes in the Malayalam movie. I was really hoping it would come out the same way. We did get the right feel towards the end of the movie so I really can't complain about it.
You can't really compare Malayalam movies with Tamil or Telugu movies. Malayalam movies are totally different in the way they present the characters. People may watch the Malayalam version without any expectation but if it is remade in other languages, we have to make some changes.
People didn't know Mammootty was there in Kadha Parayumbol, whereas Kuselan from day one was projected as a Rajnikanth [Images] film...
I think the media hyped about the superstar. I still remember the day of the opening where Rajni Sir kept telling the press that Kuselan was not a typical Rajni movie. From day one, he has been saying that, so you can't really blame us. We've been saying he's playing a guest appearance but I guess nobody wanted to listen (laughs).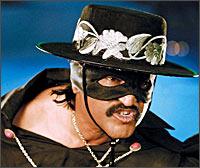 While Kadha Parayumbol was a big hit, Kuselan has failed to measure up. What do you think is the reason for the film not doing well?
I am sure it's doing well. Who said it's not? It's got very good collections everywhere. It's only that it's not a typical Rajni movie people wanted to see. Actually the collections are amazing all over the world. The audience should accept it is not a typical Rajni movie. He's playing a guest appearance and the whole story revolves around two friends and their friendship, and therefore, it has got everything they want from Rajni Sir's style, songs, good story and comedy.
It was said you were looking more glamorous than perhaps Jagapathi Babu...
That is the idea of the movie. There was a scene we shot and I didn't know why it didn't come out in the final product. There is a scene where the kids say, 'amma you are so beautiful and how come you get married to this Dad who is so dark and ugly. How come you love this person?
We talk about our love affair. It's a small simple scene but it has so much impact. That scene was too good in Malayalam and came out really well. We shot it in Tamil and Telugu but I don't know why the scene didn't come out in the final product. If that scene was there this question wouldn't have risen.
Is this a learning lesson for you...
No way, there is nothing like learning a lesson at all. It's just that you don't believe people any more. You just don't trust anyone no matter who they are (laughs).
I really didn't expect this from P Vasu (director) and others in spite of talking and making things clear. That was really upsetting.
Are you disheartened about the whole thing?
I don't deserve this at all.
Were there any calls from the production unit?
No, why would they call me? They know what they would get if they call me, maybe that's why they didn't (laughs).