Home > India > Movies > Report


Discuss |
Email |
Print | Get latest news on your desktop

Kuselan flops in Karnataka

R G Vijayasarathy | August 11, 2008 12:53 IST
Last Updated: August 11, 2008 13:35 IST


| | |
| --- | --- |
| A still from Kuselan. | |
| | |
| | |
| | |
| | |
| | |
| | |
Unless a miraculous turn around happens, it is certain that Tamil superstar Rajnikanth's [Images] Kuselan [Images] may well join the small list of the star's flop films like Baba, Pandian, Siva, Nattukku oru Nallavan or to an extent Uzhaippali in Karnataka. It is rarely that a film of Rajnikanth flops in Karnataka.
"But for the fact that some of the Rajni fans are complaining about having no fights and punch dialogues in the film, the normal cine-goers are finding it a moving and emotional film. This opinion is encouraging. We hope to get a large number of family audience in the coming days," says Niranjan who has purchased the Karnataka rights of the film from the Pyramid Saimira group, the world distributors of the film.
Niranjan is reported to have paid around Rs 2.37 crore to acquire rights while the distributor of Dasavathaaram [Images] paid Rs 1.65 crore. Though Dasavathaaram is a huge success in Karnataka, Kuselan has to do that extra business to make decent profits.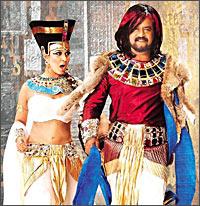 Will Kuselan be a flop in Karnataka or will it manage to win over the audience in the coming weeks? It is difficult to predict now. Rajni's films have the knack of going up the ladder from the third week. In case of a film like Yajaman, the film picked up from its fourth week to become a silver jubilee hit in Tamil Nadu. Basha opened very poorly in Karnataka, but was able to achieve impressive collections after the first week.
In the case of Kuselan, however there are some negative factors that may work against a turnaround. The number of shows has been reduced in most of the multiplexes and even in single screens when from the second week onwards, collections which are on percentage basis would have been more advantageous to the multiplexes than the distributor.  
"Kuselan has a story which is not all that attractive to the fans here who may not understand the Tamil dialogues. That is the reason why Kuselan is getting such meagre collections. The film does not have a repeat value," says an experienced film distributor.
Bangalore Police Commissioner Shankar Bidari said more than Rs 6 crore worth of pirated compact discs were seized recently and a large number of them were that of Kuselan, which was released just ten days ago.
On Saturday, Niranjan addressed a press conference at the Karnataka Film Chamber of Commerce office alleging that pirated discs were easily available in the state which is affecting the business of the film.
Niranjan also said that the family audience have started coming now and the film's collections have remained steady. "I don't say collections have fallen sharply. There may be no houseful shows in some theatres, but now the family audiences are coming in large numbers to see the film.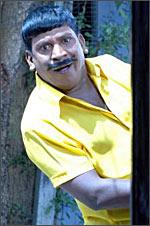 The theatre owners who have paid hefty advances are clearly demoralised. "I had obtained the release rights of the film by paying a minimum guarantee amount. I am sure to lose forty percent of that amount," says one.
A senior official of the Pyramid Saimira group in Bangalore says that Kuselan has a good story line with emotional content and it is sure to be appreciated in the coming weeks. "We expect a heavy flow of family audience from the second week,' says the official.
According to a trade analyst in Bangalore, Kuselan would have faced no problems if it was purchased at around Rs 1.5 crore. But if you analyse how some of the other big Tamil films fared in Karnataka, there is some consolation.
Vijay's Kuruvi purchased at Rs 1.05 crores was a failure while Ajith's Billa, which was declared as a super hit, was able to do a business of around Rs 1 crore. In contrast Vikram's Bheema at Rs 80 lakhs was a big flop.
So, the only consolation is the fact that Rajni's flop films fare better at the box office than the other top stars' hit films!
Email |
Print | Get latest news on your desktop