Home > India > Movies > Interviews


Discuss |
Email |
Print | Get latest news on your desktop

The Rediff Interview

'I would be foolish not to use Farhan'

August 07, 2008


| | |
| --- | --- |
| Abhishek Kapoor | |
| | |
| | |
| | |
| | |
| | |
| | |
It's not everyday that one gets to direct the man, who directed the brilliant Dil Chahta Hai [Images]. But Abhishek Kapoor does just that in Rock On!, in which Farhan Akhtar makes his acting and singing debut.
The film, about a four-member rock band, co-stars Arjun Rampal [Images], Luke Kenny and Purab Kohli. The film also stars television star Prachi Desai, who made Ekta Kapoor's [Images] soap Kasamh Se very popular.
Abhishek's directorial debut, Aryan, did not meet with much success. The Sohail Khan-starrer was heavily panned by critics while audiences stayed clear.
Abhishek tells Nithya Ramani why Rock On! will be worth a watch.
Jeetendra [Images] is your uncle, while Ekta Kapoor is your cousin. Films must have been a natural progression for you.
Yes, with legends like them in the family, I have grown up in a filmi environment. So it was natural for me to follow their footsteps.
I started off as an actor. But I cannot name any substantial work there. I then turned to direction; my first film was Aryan. After that, I started working on Rock On!.
What is Rock On! about?
It is about four guys, who have something in common -- music. They want to form a rock band but cannot do that due to certain circumstances. So they go their own ways. After 10 years, they get together again and form a band. The film takes you through that time.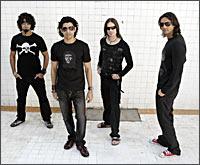 Why did you decide to make a film on a rock band?
I wanted to do something musical. I have always wanted to write character-driven scripts. Besides, I was sure that I didn't want to make an English film.
Why did you cast Farhan Akhtar?
Farhan is a good friend of mine. I've always wanted to work with him. When I was ideating, I met him and I knew right then that I wanted him in my film. I wrote the script keeping him in mind. And I was sure that I wanted my actors to sing their own songs in the film.
Did you have a tough time convincing him to join the cast?
No. I went to him with the script, and he loved it. He agreed immediately. I told him that he had to sing himself and he was more than ready. He sings and plays the guitar.
You made Farhan audition for the part.
Yes, I made him sing. I had some reference songs in mind. I wanted my songs to be on those lines. One day, Farhan called me and asked me to come to the studio. He was ready to sing. So he did, and I was sure that this is what I wanted.
What do you think of Farhan as an actor?
He's a gifted boy. He is not only a great director but a great actor and an even better musician. He is very versatile. He has no doubts or apprehensions about anything. He does everything with confidence.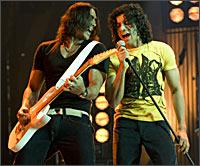 What was it like to direct a director, who has more experience than you?
There was no problem at all. All suggestions were welcome. I would be foolish not to use Farhan to the fullest.
If you are talking about ego clashes, there were none. Not only Farhan, I was open to suggestions from the other cast members as well -- Arjun, Purab and Luke. I know what they were capable of.
Did Farhan ever interfere?
Farhan is very focused. He is an actor in this film and he knows that. Moreover, he has worked with the legends of the industry. He is the best man I can learn from, and I have learnt a lot.
What made you sign Arjun Rampal, Purab Kohli and Luke Kenny?
I knew Farhan would be perfect for the role. But I wasn't sure in the case of Arjun. Of course, he turned out to be great! He gave a very unexpected performance. He has improved tremendously as an actor from his earlier films.
In the case of Purab, I wanted a fat guy -- someone, who did not look like Purab. That was the image I had in mind for the drummer in my film. But when I saw Purab, I knew he would suit the character perfectly. I auditioned him thrice before we finalised him. It helped that he was a veejay with MTV, as he had a great female fan following. He has always stood out in his earlier films, and given great performances.
Luke is a musician himself. I selected him in five minutes. I called him up and asked him if he was interested in doing the film. I called him to my office, narrated the script and he was finalised.
We cannot compare the characters. They are all different people, and music is the only thing that keeps them together in the film. Farhan's character is a winner while Arjun's character is very meticulous.
Why did you choose Prachi Desai?
I didn't know anything about television stars. I didn't know her until I met her; how popular she was in the television industry. I asked Ekta to help me find a heroine for my film, and she suggested Prachi's name. Prachi auditioned, and was selected.
Prachi has a glamorous look in the film, as opposed to her traditional look in Kasamh Se.
She plays a very stylish girl from an affluent family. I do not understand what you mean by glamorous. She is not glamorous at all; she is only stylish. You have seen her in the bahu kind of roles, and that is why you find her glamorous here.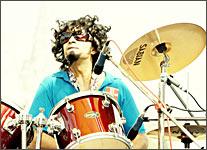 Did you do any kind of research for the film?
I am not a big fan of rock. But I listened to a lot of bands like Green Day and Cold Play for the film.
Why did you choose Shankar-Ehsaan-Loy for the music?
The film's music is very essential. I wanted Farhan to sing, so I wanted someone, who knew him very well -- someone who knows how he works. I couldn't think of anyone else but Shankar-Ehsaan-Loy. And of course, they have a great knowledge of rock music.
Your first film, Aryan, did not do well.
Aryan was a different ball game altogether. I started scripting Rock On! after Aryan was over.
Any memorable instances?
The only instance I can remember is our lunch breaks. We used only 15 minutes out of our hour-long lunch break, and the rest of the time, we would have jam sessions. That was fun!
Will you join your cousin, Ekta, in the television industry?
Television has a lot of money. I am open to everything. I may join Ekta, you never know.
Email |
Print | Get latest news on your desktop