When ludo inspired Mohan Krishna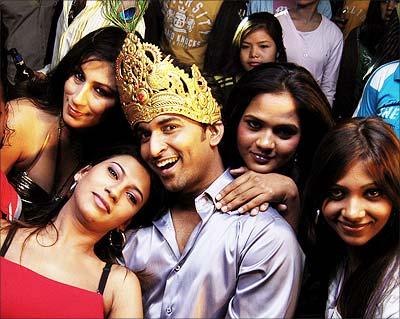 His first Telugu film, Grahanam fetched Indraganti Mohan Krishna 11 awards including the Indira Gandhi [Images] Award for the Best First Film by a director.
The National and Gollapudi Srinivas award-winning director then made his second film, Maya Bazar. Now, the filmmaker is ready with his latest film, Ashta Chamma (the original version of the game ludo). Well, the title is a metaphoric one though there are references to the game.
Scripted by Mohan Krishna himself, the romantic comedy is "the story of two young couples. It has nothing to do with college life. It's a fun film, a laugh riot. It's essentially the story of four quirky people and what happens when they are in love," Mohan says.
The cast is a young one comprising of Swati (of Danger and Adavari Matalaku Ardhale Verule and the recent Tamil film Subramanyapuram fame), Nani (an RJ), Srini Avasarala (a mechanical engineer who works in Princeton University Labs, New Jersey, US) and Bhargavi (who has acted in television serials such as Amrutham). Nani and Srini are making their debut.
Text: Radhika Rajamani
Email |
Print | Get latest news on your desktop