Home > India > Movies > Reviews


Discuss |
Email |
Print | Get latest news on your desktop

Rajni, Jagapathi Babu shine

Radhika Rajamani | August 01, 2008 16:23 IST



Expectations were very high at the first show of Kathanayukudu (the Telugu version of Kuselan [Images]). When the audience roared as the credits rolled down, one realised this was truly an applause for the thalaivar. But he did keep the audience waiting for quite a few minutes before making an appearance.

However, the story which unfolded on the screen in the meanwhile was simple, true, honest and relatable. Set in Sirsilla (perhaps the village is better known for its weavers' deaths') the film is the tale of Balakrishna aka Balu (Jagapathi Babu) and his wife Sreedevi (Meena) and their three children.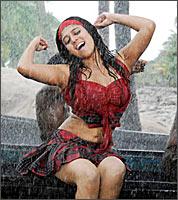 The village is agog with excitement when Ashok Kumar (Rajnikanth [Images]) comes there on a 40-day shoot. There is change in the canvas when he makes an entry. From a humble dwelling, the scene shifts to a mega guest house and film sets.
It is here that even Srinivasan (the writer of the original Malayalam Kadha Parayumbol) may not have imagined the dimensions or the magnitude Kathanayakudu would take or rather P Vasu, would give it.
There are scenes from Chandramukhi [Images] 2 with Nayantara [Images] playing herself and there are enough songs and dance to keep the audience happy (especially Nayantara's bare-all and dare all act in a rain song).
While the villagers and others struggle get to see Ashok Kumar (there are barricades and he is heavily guarded by Black Cats as he is provided Z -category security), the Japanese delegation happily has access to him!
P Vasu has cleverly woven some dialogues around his 'entry into politics' and his journey to the Himalayas. As for Rajni, he portrays the role with his usual panache.
And while he maybe the star of Kathanayakudu, (especially at the heart-rending climax), the movie is as much Jagapathi Babu's, if not more, for his sincere and endearing portrayal of a humble barber. Jagapathi Babu has certainly put his heart and soul into the role. In fact the climax leaves everyone moist-eyed. Jagapathi Babu is restrained yet good while Meena renders him adequate support.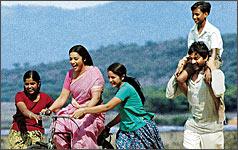 The movie could have done without at least two songs and dances but then a Rajni movie without them would be unthinkable.
G V Prakash does a fairly good job as evident from the ode to Telugu cinema in the Cinema Cinema song with all the veterans and youngsters. The song Challe Challe too has a nice melodic feel about it and is beautifully picturised. Set designer Thota Tharani makes everything look as authentic as it should -- be it a barber's hut or a guest house.
P Vasu conceives everything in a larger than life canvas keeping in sync with the image of the superstar he is directing. And while he seems to have gone overboard by moving away from the original, Kathanayakudu is worth a watch for the touching last moments.
Rediff Rating:

Want to see this movie? Check out Rediff Movie Tickets!

Email |
Print | Get latest news on your desktop