| | |
| --- | --- |
| A still from Dasavatharam | |
| | |
| | |
| | |
| | |
| | |
| | |
Advertisement
April 28, 2008 12:58 IST


Not even Lord Vishnu's 10 avatars might have generated such interest or garnered so much attention. But Dasavatharam, Oscar Ravichandran's latest offering, directed by veteran blockbuster director K S Ravikumar, starring Kamal Haasan [Images], has been in the news for months.

Songs are composed by Himesh Reshammiya [Images], and ideally, it ought to be a chartbuster. However, it is not.

Ulaganayagane, sung by Vineeth, begins with a svelte voice, melting smoothly into a burst of heavy rhythms and instrumental music. Vairamuthu's lyrics toast the Ulaga Nayagan with eternal youth, and prophesying that the UN and Oscars await him with open arms.

The chorus is backed with music that reminds you of Lipps Inc's Funky Town, after which it switches to violins that carry a distinct Northern flavour, very familiar and oft-heard. Scottish bag-pipes and violins morph into traditional music in the end, while Vineeth's voice flits in and out in an effort to blend the old and the new. Yes, it's catchy, even if it's borrowed stuff. One of the likeliest dance-away numbers of the collection, though it sounds sickly sweet when you hear it the first time.

When you listen to Hariharan's [Images] Kallai Mattum Kandal, written by Vaali, which begins with a melodious Om, and segues into Vaishnavite Saint Periyaazhawar's Pallaandu, you expect something different. To a certain extent, it doesn't disappoint. The tune weaves through Arabic notes, making you wonder if this song deals with the 11th century part of the film.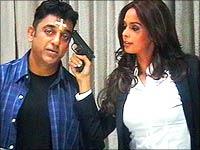 The repeat of Pallandu, however, is quite jarring. Vaali's words shift from questioning firm beliefs to re-enforcing the strength of mankind, and a strong resolution to win against some undefined enemy, touching the Saivite-Vaishnavite conflict. Conch and trumpet notes add authenticity to this song, giving it a temple feel, while Rajalakshmi-Srinivasan, Kamal Haasan's parents, find mention. A sense of urgency, sorrow and resolution add poignancy to the piece. This song obviously has more going for it than just the words and tunes, and deserves a wait until the picturisation.  
Oh Ho Sanam, sung in Kamal Haasan's trademark mournful voice, begins on a sorrowful note, which gradually escalates from slow beats to a steady rhythm and high-pitched shouts. Penned by Vairamuthu, the lyrics are uplifting, and a passing mention of Kadavulum Kandasamiyum -- one of writer Pudhumaippittan's classic stories -- brings a smile to your face. Bhangra beats interrupt the song, while Mahalakshmi Iyer's rather shrill voice joins the proceedings at a later stage, making a good potpourri of it. The tune is dance-worthy, but has nothing new to offer; you've heard songs like this a thousand times.
The beautiful strains of a veena open the doors to a musical treat, with Mukundha Mukundha, sung in the ever-youthful voice of Sadhana Sargam, and penned by Vaali, who's known for his penchant for such epic themed verses. Here again, there's little of a South Indian flavour: it feels more like a bhajan on Santoshi Matha, translated to accommodate Lord Krishna. Refrains of Seetharam and Jai jai Ram flit through intervals, and there's a sudden interlude of flutes that feels like you're in the middle of a Rajasthani folk song.
One memorable note, though: there's a whole list of all the 10 avatars of Lord Vishnu, in catchy one-liners, which add colour to the song. But why does Haasan croak in that horrible voice in the end?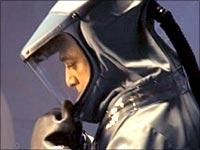 Kaa karuppanukkum, sung by Shalini Singh, is one of the most unintelligible songs of the album. One just cannot understand Vairamuthu's words. The music has a distinct late 1970's-early 1980s disco music feel to it. And then it's interrupted by a Nayanam-esque piece that joins hands with a catchy beat. A faint tribal flute piece makes a sudden appearance, and then it's back to thumping 1980s music again. This song is what you need for your dancing shoes, anyway.
Oh Ho Sanam, the remixed version of Haasan's song, sees Himesh himself taking over in Tamil, with some moderate success. It's catchy enough to make you forget his pronunciation and nasal tone. It's synthesized music at its highest best, with a sudden infusion of bells clanging like a western movie. Mahalakshmi Iyer accomapanies him in this song.
The Final Verdict? A mediocre listening experience. 
Rediff Rating: