Advertisement
April 18, 2008 12:07 IST


Why don't you go back to Afghanistan, Iraq, Pakistan or Saudi Arabia, burn your own homes and become terrorists in your own country?'

An ex-army man's tirade, towards his so-called enemy, is interspersed with blistering expletives.

Scarred and bitter about his son's untimely demise during the World Trade Centre attack on September 11, 2001, he finds it impossible to get a grip over himself.

Ironically enough, he is mistaken to belong to the same community he hates so much -- when a group of burly Americans call him 'Osama' and finally beat him up.

Tanuja Chandra's English film, with some Punjabi, Hope And A Little Sugar, echoes the irony and aftermath behind/of unfair prejudices as well the importance of letting go. The thought is put across through two diametrically opposite New York-residing individuals -- a Sikh and a Muslim -- both victims at some point, up against each other.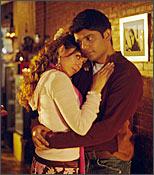 One, fondly referred to as Colonel Oberoi (Anupam Kher [Images]), chooses to unreasonably unleash his fury towards all Muslims after his son Harry (Vikram Chatwal) is killed in the 9/11 catastrophe. The other, Ali Siddiqui (Amit Sial), who lost a loved one during communal riots, prefers to keep his rage in check.

The bone of contention between the two men is Ali's closeness to Oberoi's daughter-in-law, Saloni (Mahima Chaudhry).

That's also the primary flaw in the script. Firstly, both the audience and Saloni get over Harry's death with an eerie amount of apathy. Think about it, Harry is a key player in the story. But he/Chatwal isn't given enough time to register his presence or importance.

He passes away in September. And by December, Saloni has happily moved on. Couldn't she have postponed the romance by at least a year?  Perhaps then, the whole afore-mentioned irony episode, which took place soon after 9/11, wouldn't make any sense.

Even so, Hope And A Little Sugar is a well-intentioned, even if not exactly well-done, drama. It lacks the subtlety or layers, which enrich the narrative of complex, ever-indecisive human emotions. For example, conveying something as simple as Colonel's patriotic fervor translates into an entire living room filled with Indian flags -- on the walls, in a vase, on the table -- you get the picture.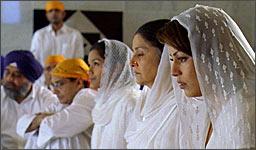 Also, it's high time we got over contrived cliches like sitar-driven background score spelling desi neighbourhood and Punjabi Abroad equals to indoor bhangra and lahsooni chicken.

Fortunately enough, Chandra's New York City isn't hip like Karan Johar's [Images] (nothing wrong in that as long as visuals don't overtake a script, a la U Me Aur Hum). On the contrary, the entire look of this indie feature is proudly jaded and furiously un-glamorous.
Mahima Chaudhry takes exception to that rule, of course. Though the exuberant star does surprisingly well for a part that seems to have no real personality or mind of her own, her wardrobe screams B-o-l-l-y-w-o-o-d. Race stylist Anahita Shroff Adajania could have spared Mahima of the marquee fashionista overload.

Shot in 25 days flat, sometime in 2004, Hope And A Little Sugar took its own sweet time to hit the screens owing to an exhaustive post-production exchange between its Mumbai-based director and American producers -- Scott Pardo and Glenn Russow (also co-writer). The rushed temperament of the filming is noticeable, but only, during weak acting moments. Namely Amit Sial.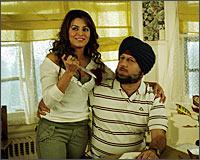 As one of the leading protagonists, he fails, miserably at that, to portray a wronged man besieged by pent-up emotions, haunting memories from the past and an unrequited infatuation for a married woman. Sial, instead, alternates between clueless and indifferent.

His object of conflict, played by Anupam Kher, shows us what being seasoned is all about. The man sparkles in an emotionally-wrenching role of an anguished father -- he's a PRO at it anyway (Saaransh, Daddy). Kher's convincing transformation from a charismatic happy-go-lucky but somewhat over-protective, arrogant and old-school personality to a verbally pungent (he is made to hurl an awful lot of abuses), wounded soul with constant hurt and spite in his eyes and tongue is remarkable.
Lengthwise, her role's not much, but Suhasani Mulay is brilliantly heartfelt and understated as the quietly suffering wife of Kher.

At a 90-minutes running time, Hope And A Little Sugar's offbeat theme prioritises the cause of a prevalent mindset and articulate it through the medium of a few poignant performances.

In a moment of self-justification, the Colonel says, 'I survived two wars by learning to hate the enemy. It's the only way to protect what we love.'  And that's the only food for thought you walk out of the theatre with.

Rediff Rating: