| | |
| --- | --- |
| A still from Krazzy 4 | |
| | |
| | |
| | |
| | |
| | |
| | |
Advertisement
April 11, 2008 16:15 IST


You know what?

Ram Sampath was right to sue; he made the best part of Krazzy 4 [Images].

A while after leaving theatres, all that resonates in your ears from Jaideep Sen's directorial debut is that Sony Ericsson track Hrithik Roshan [Images] (and Shah Rukh Khan [Images]) took turns grooving to, the younger star doing significantly better than the older, who seemed to alarmingly have a 'bit of a Michael Jackson thing going on.'

Anyway, this is not the place to discuss item numbers (and I'm certainly not keen to discourse on Irrfan Khan's attempts at rubbing out Rakhi Sawant's [Images] tattoo), and convention dictates this is where we talk about the film.

Sigh. Must we?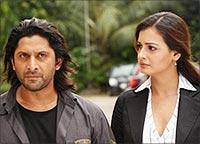 On paper, there must have been something to Jaideep Sen's directorial debut that made sense. A reworking of hackneyed Michael Keaton starrer Dream Team, the film is about four madmen of varying mental disability out on the town and involved in a kidnapping plot.
Add to that a hearty Bollywood dose of message-filmmaking, extraneous patriotism and good ol' backstory-masala, and -- on paper, as we said -- there must have been a few gleaming grains of potential. Toss in a few capable actors, producer Rakesh Roshan might have justifiably reasoned, and we're cooking.
The problem, however, despite all the excessive slapstick elements well in place, lies with the script. Relying purely on actor-expressions and a few moments of action can't quite do the job. The cast is a decidedly fine mix as Rajpal Yadav, Irrfan Khan [Images], Arshad Warsi [Images] and Suresh Menon get to pirouette around Juhi Chawla [Images] and Dia Mirza [Images] while Zakir Hussain and Rajat Kapoor [Images] look on -- but there's only so much good timing can do without authentic punchlines.
There's nothing offensively 'wrong' with Krazzy 4, especially compared to the atrocities served up nowadays. It's almost a throwback to older funny-movies, and the farce never quite enters modern day (read Priyadarshan [Images]) territory. The film seems to have its heart in the right place, tries to pretend there's a message, albeit vague. For all its naivete, it could actually have been quite charming.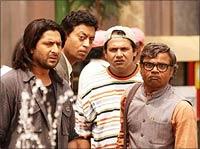 Except, um... it's just not funny.
So we have Angry Arshad, Freedom-Fighter Rajpal, Irrfan the Compulsive Cleaner and -- in a bizarre bit of miscasting for a talented mimic -- Menon the Mute, all heading out to watch an India-England cricket match on Independence day, something Dr Juhi Chawla thinks would teach them the value of teamwork.
Naturally, all hell breaks loose as our titular quartet squabble and huddle together to save the day against all odds. There are a couple of well-conceived sequences, like a mall-full of shoppers standing at attention during the national anthem hitting out at goons for not doing the same, and the idea of a begging song, but the jokes are lost in the execution.
As said, it's not horrible. You can watch the film without cringing, and indulgently smile at where what is going wrong and, figuring out how the real joke might have sounded as intended, chuckle a bit. And honestly, this isn't a film we're trying to make sense of, or nitpicking about plot detail: make it loony, for god's sake, go wild but try and make it funny, instead of hoping Irrfan's and Rajpal's faces do the trick.
And so we are better off discussing the item track, SRK's [Images] MJ routine and Hrithik's impressively fluid vertebrae managing to at least hold viewer attention and giving us a bit of a thump. Well, at least more than the film.
Rediff Rating: