Home > India > Movies > Reviews

Tashan's music is fashionably showy

Sukanya Verma | April 02, 2008 18:39 IST


| | |
| --- | --- |
| Saif Ali Khan and Kareena Kapoor in Tashan | |
| | |
| | |
| | |
| | |
| | |
| | |
Flamboyance ranks high on his menu while skimpy skirts are her idea of rebellion, they speak Hinglish with hip accents and are obsessed with delivering picture-perfect coolness. Welcome to the world of catalogue film making.

The makeover chronicles continue post-Dhoom and Dhoom: 2 with its writer Vijay Krishna Acharya donning the mantle of director for Yash Raj Films' much-hyped film, Tashan.

Starring Anil Kapoor, Akshay Kumar, Saif Ali Khan and Kareena Kapoor in glossy avatars, the action film revolves around four nonconformist individuals on the wrong side of law.

Whether Tashan is as sleek as the promos suggest only April 25 will tell. Meanwhile, here's a look at its soundtrack dished out by the inventive duo, Vishal-Shekhar (Om Shanti Om, Salaam Namaste, Dus).

The album opens with dramatic fizz and tangible sizzle with Sukhwinder Singh's high-voltage rendition of potential chart-topper Dil haara, backed by a blend of electric guitar strumming, spirited accordion, effervescent percussion and a super-charged chorus. To enjoy this zingy track, penned imaginatively by Piyush Mishra, even better, turn the speakers at full blast.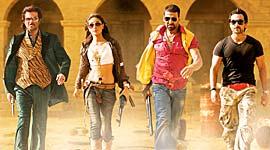 This time around Mishra wields the microphone in Sunidhi Chauhan's husky company to croon Chhaliya. The mood, momentum and masti heavily relies on/reflects the attitude of Dhoom machale. Despite all its attempts to seduce and serenade, Chhaliya lacks the Tashan factor to truly impress. Even so, the song's ultimate goal is to give Kareena an excuse to flaunt her size zero figure in itsy-bitsy Aki Narula-designed outfits.

Eclectic sounds from East and West punctuate the fast-paced Dil Dance maare. Not just content with Hinglish, a dash of Bhojpuri is merged in as well to concoct flaky lyrics like: White white face dekhein, dil maa beating fast, sasura chance mere re. Unbelievable as it sounds, the full-on ditty actually grows on the listener, owing to the genuine camaraderie between its singers -- Udit Narayan, Sunidhi and Sukhwinder. The sporting troika plays along with the silliness and urges you to get on board. And so, why not?

The opening is loosely reminiscent of t.A.T.u.'s Not gonna get us. The electronic fervor, however, fades soon enough to develop into Tashan's lone mushy ballad, Falak tak. Against Vishal-Shekhar's starry-eyed notes and Kausar Munir's dreamy penmanship, Narayan and Mahalaxmi Iyer exchange sweet nothings to harmonious effect. Sweet.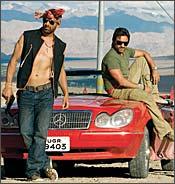 After scoring in winning tracks like Jame raho (Taare Zameen Par) and Break free (Krazzy 4),  composer Vishal Dadlani gets back into the groove, with co-singer Saleem, to perform the classical cum rock cocktail, Tashan mein. Tashan's high-powered verve resonates the feisty essence and care-a-damn stance of its glamorous quartet.

During the course of the soundtrack, Tashan's leading cast -- Anil, Akki, Bebo and Saif give us a sneak peek into the style quotient of their respective characters -- Bhaiyyaji, Bachchan Pande, Pooja and Jimmy in true Bollywood style with expected pomp and in-your face brand of hero/heroinegiri.

Going with the screwball theme of Tashan, musical duo Vishal-Shekhar generate an album that is fashionably showy and meticulously over-the-top. Either you will hate its guts. Or love it for the same.

Rediff Rating: 

Want to see this movie? Check out Rediff Movie Tickets!