Pic: Birthday boys Manmohan Singh & Dev Anand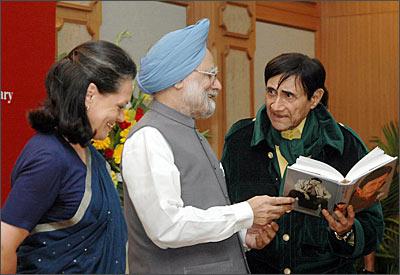 The capital saw an unusual birthday party on September 26.
Birthday boy Dev Anand, 84, launched his autobiography, Romancing With Life, with the other birthday boy, Prime Minister Manmohan Singh [Images]. Our prime minister celebrated his 75th birthday on September 26.
It was a rare play of contrasts as the shy politician exchanged glowing tributes with the hero of countless Hindi song-and-dance hits.
The PM released the autobiography of the 'immortal' film personality, noting that the 'chocolate hero' has possibly acted with every top heroine over five decades -- from Suraiya and Waheeda Rehman [Images] to Madhubala and Zeenat Aman [Images].
Congress President and UPA Chairperson Sonia Gandhi [Images] was prominent at the function, which saw the actor hailing her and Singh for "their capacity to take the country skywards so that it becomes an envy of the world."
Speaking about the book titled Romancing with Life, Anand said, "From an ordinary boy, a non-entity, to now, as I stand here in front of you today, this book is about 62 years of my struggles... (about) my joys, my sorrows, my highs and my lows. It is an honest depiction of a man with all his strengths and weaknesses."
Dressed in a velvet bottle green jacket and trouser with a matching scarf, the actor-director-producer said it was "a book of the people who have given my life to me. Now I am giving it back to them."
Recalling that Anand's childhood and youth were marked by deprivation and dislocation due to the Partition which forced him to migrate to free India, Singh said, "The trials and tribulations of those difficult years did not warp his personality, nor did they stunt his talent."
Soon, Anand discovered his true calling in the Indian cinema and rose to become "one of the trinity who ruled the hearts of every Indian -- Raj Kapoor, Dilip Kumar [Images] and Dev Anand [Images]," the Prime Minister said.
Expressing hope that his biography would inspire newer generations to aspire for a life of greater creativity, he said Dev Anand's was 'a classic rags to riches life, where those riches have been earned through dint of sheer hard work and dedication.'
Paying tributes to one of the tallest leaders of the Hindi film industry like Anand, the Prime Minister recited a couplet, Sitaron keaage jahaan aur bhi hain, abhi ishk mein imtihan aurbhi hain.
Romancing With Life captures Dev Anand's early days, before he became an actor, and after.
It has interesting snippets from his life, like the time he lost his ladylove Zeenat Aman -- the beautiful actress who was launched in Devsaab's directorial film, Hare Rama Hare Krishna -- to Raj Kapoor.
Anand writes that he was 'jealous of him for making advances on what I considered my sole possession, my discovery, my leading lady.' But he added that today, he feels proud of Zeenat, and admired Raj Kapoor.
The Mumbai launch of the autobiography will take place today, September 27, which marks the birthday of another Bollywood legend, Yash Chopra.
Inputs from PTI | Photograph: Getty Images