Home > Movies > Bollywood News

'Dev was very shy'

September 26, 2007 14:16 IST



Dev Anand gave a break to many leading ladies in the industry, the most prominent being Zeenat Aman. But his career took off when he was given a break in Ziddi, opposite Kamini Kaushal, a popular actress then.

Kamini, who will be seen on screen after a long time in Pradeep Sarkar's Laaga Chunari Mein Daag, talks to Patcy N about Devsaab on his birthday, and offers us a glimpse into the Evergreen star.

Dev and me are almost the same age (he turns 84 today, the actress turned 80 earlier this year). I worked with all the Anand brothers. I know everyone in his family. Recently, I did Goldie's film, Jaana Na Dilse Door.

What a lovable boy! I remember him when he was a kid and I was doing Chetan Anand's Neecha Nagar, my first film. I would go for rehearsals at their Bandra house, and saw Dev often. It used to be a bungalow in those days (it now houses a mini theatre). I would travel by train.

Dev was very shy and introverted. We acted together in Ziddi, which was his second film and my fourth. He is still a shy person but puts on an act of flamboyance. And let me tell you, it's a perfect act. I know him very well (chuckles).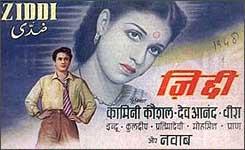 Later, we did Shayar and Namoona. He is very dignified, gracious and genuine.
There was an incident, when I caught him by surprise 15 years ago. He was supposed to do an interview with the BBC in London. My brother was a medical advisor to the High Commission at that time so I would visit him often. Somehow, the BBC guys heard that I was in London and asked me to come and be a part of the interview.
It was a live interview. Dev did not know I would be a part of it, as BBC wanted it to be a surprise. The show began with Dev chatting and laughing. Just before I was called in, they showed a song from a film we did together. I think it was Shayar. After the song ended, I walked in. You should have seen his face -- he was so shocked! It was really funny.
He was very handsome then. He still is. He was very quiet and gracious and kept to himself. When he was not shooting, he would sit in the makeup room. He read a lot. His makeup room was littered with books.
Later, he moved to production and direction. But he never approached me for his films. In fact, after Namoona, we did not work together again.