Home > Movies > Reviews

Saawariya soundtrack, a superior product

Sukanya Verma | September 24, 2007 13:25 IST



One Kapoor is good. Two Kapoors? Too good! In fact, it doesn't get better and bigger than this.

Rishi and Neetu Kapoor's son, Ranbir and Anil Kapoor's [Images] daughter, Sonam make their grand debut in Sanjay Leela Bhansali's [Images] opulent love story, Saawariya. To make matters even more starry, Salman Khan [Images] and Rani Mukerji [Images] pitch in as well.

Going by promos and rumours Saawariya, which releases on the same day (November 9) as another monster-size biggie, Om Shanti Om, is a Moulin Rouge (A Baz Luhrmann movie) meets White Nights (A Fyodor Dostoevsky short story) brand of spectacle.

How true is that? Will Ranbir and Sonam live up to their illustrious Kapoor surname? Can Sanjay Leela Bhansali beat himself at the magnificence game?

This Diwali, you get all the answers. Meanwhile here's a look at the soundtrack.

From authoring instrumental themes for Devdas and Black, Monty Sharma takes on the role of a full-fledged composer, along with lyrics-veteran Sameer, to score Saawariya.

The erstwhile Ismail Darbar assistant has a peculiar style. He opens with a sweet and straight arrow Mukhda. But for the antara, the music director jumps on an indefinite route lending his creations a decidedly unpredictable edge. Call it quirky or imaginative, it certainly makes the album interesting.

Like most of Bhansali's films, the music won't strike as instantly 'catchy'. Even so, like most of his films, it bears the stamp of intricacy which hasn't compromised it its vision or convictions.

The start is auspicious (read melodious). The brimming joy and boyish zeal in new find Shail Hada's nimble singing effortlessly rubs off its cheer onto the listener. The title ditty, with its hands-on rhythm and friendly demeanor has no problem getting a thumbs up or two. Hada's reprises his gift of vibrancy in an unplugged, carefree version of the same.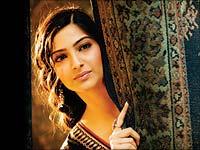 Shaan dreams up a world of bewitchment in the delicately crafted Jab Se Tera Naina -- a rousing and resplendent celebration of the universal slogan 'crazy little thing called love'

Kunal Ganjawala communicates the dumbstruck condition of his besotted hero with passion-filled exclamation in Masha Allah. Veiled in enigma and awe, Monty's soothing, lavender-hued tune is enticing to say the least.

Lyricist Nusrat Badr's sets up a sea of affections for the Sanjay Leela Bhansali tranquil composition, Bade Badmash. The utterly feminine quality to Shreya Ghosal's temperate nuances suitably articulates the warmth and devotion in the song's sentiment. 

Bhansali loves to draw a poetic parallel between his heroines and the splendid moon. Remember Chand Chupa Baadal Mein in Hum Dil De Chuke Sanam and Woh Chand Jaisi Ladki in Devdas? In Saawariya, too, the celestial one features as a valueless competitor in front of the flawless leading lady's glory.
The supremely soulful Parthiv Gohil imparts refreshing energy as he goes about singing paeans in appreciation of his beloved in Yoon Shabnami Pehle Nahi Thi Chandni. Stirring stuff, this.

A classical soul and poignant performances from Richa Sharma, Shail Hada and Parthiv Gohil, not to forget a truly fabulous chorus, ensure Daras Bina Nahin Chain will cause gooseflesh to surface one too many times throughout it's play time.

All of Ganjawala and Ghosal's caramel-flavoured dedication cannot lift the melancholy-dripping, Jaan-e-Jaan, an awkward and cluttered mish-mash of high notes, low notes, drama and whisper, from the grasp of mediocrity.

Sawar Gayi pays a exhilarating ode to a woman in love, employing elements like shringar (make-up) and restless anticipation, to raise a vivid picture of romance.

It opens like a Zamfir tribute but moodily swerves in mush-mode with Pari. This dreamy and creamy fantasy about air-borne nymphs is surprisingly tepid in the melody department.

Alka Yagnik's vocals playfully hop to the beats of the bustling Chabeela. Despite being a typically crowded number, in terms of arrangement and emphasis, Chabeela passes muster thanks to all that verve in its tone.

Saawariya starts off superbly, showcasing the ethereal texture of its strain. Sadly, somewhere towards the end it loses some of its steam. In entirety, however, the soundtrack is a superior product. Considering the unrealistic expectations Saawariya has / and is bound to generate, well done, Monty!

Rediff Rating:

Want to see this movie? Check out Rediff Movie Tickets!