This Friday sees an unusual film in the theatres with an unusual name, called the Loins Of Punjab Presents. And it is truly hilarious.
Loins of Punjab is the name of a company, which organises a singing reality show called the Desi American Idol in New Jersey. The film takes a closer look at the kind of people who participate in the show, and the politics of it all.
First, there is Preeti Patel (Ishitta Sharma), who belongs to the Patel family. The Patels are very miserly, but will go to any extend to see their daughter win. And that includes bribing the judges.
Then there is Josh Cohen (Micheal Raimondi), an American who is in love with an Indian girl Opama Menon (Ayesha Dharker). He knows only two Hindi songs: Ae dil hai mushkil jeen a yahan (Pyasa) and the Indian national anthem.
Sania Rehman (Seema Rehmani) wants to make it big in Bollywood someday. But she does not understand Hindi.
Vikram Tejwani (Manish Acharya, who also directs the film) is about to lose his job as it has been outsourced. So he tries his hand at singing.
Turbanotorious (Ajay Naidu) is a gay rapper, who can't rap without using swear words.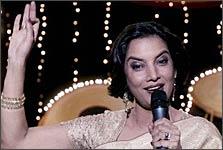 Rrita Kapoor (Shabana Azmi [Images]) is a socialite, who participates in the contest for publicity, and pledges to donate the winning amount to charity.
And lastly, we're introduced to the event manager Mr Bokade (Jameel Khan), who has a unique way of presenting the show
Each contestant tries to outdo the other. For example, Rrita tries to persuade the contestants to leave the contest, so that she does not have to contend with strong competitors. Besides, all of them protest against the foreigner (Josh Cohen), who is participating in a desi event.
The film has no story as such. But it's a mad comedy, and you don't feel bored even for a moment.
All the actors perform well, and you fall in love with their characters after a while. Director Manish Acharya has done a brilliant job on the characters. In less than two hours, you feel as though you know them.
Loins Of Punjab Presents is a great way to spend a lazy afternoon.
Rediff Rating: