What Guru Dutt and Deepika Padukone have in common?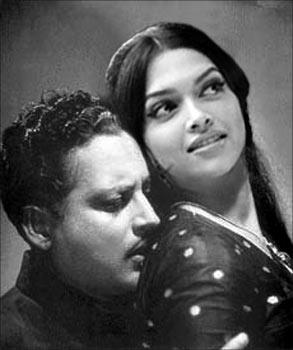 Yes, you read it right.

Deepika Padukone [Images], who makes her Hindi film debut in Farah Khan's [Images] Om Shanti Om, has something in common with the legendary Guru Dutt.

And it's more than just a career in show business.

The famed filmmaker and the debutant actress hail from Karnataka's Chitrapur Saraswat Brahmin community and share a surname.

Guru Dutt was born Vasanth Kumar Shivsankar Padukone. His family later changed his first name to Guru Dutt after a childhood accident, as it was perceived to be auspicious. The surname went out, perhaps when he became a dancer in Kolkata.

Deepika is, of course, the elder daughter of badminton legend Prakash Padukone, the first Indian to win the All England [Images] title, the biggest prize in the sport, and his Mumbai-raised wife Ujjala, who the model-actress resembles.

Guru Dutt and Deepika are not the only movie personalities the Chitrapur Saraswat Brahmin community have produced -- there is Guru Dutt's illustrious first cousin Shyam Benegal, who just won the Dadasaheb Phalke Award, playwright and actor Girish Karnad, editor Guru Dutt Shirali, composer Bhaskar Chandavarkar, actress Leena Chandavarkar, actor Anant Nag and his late actor-director brother Shankar Nag, Guru Dutt's niece director Kalpana Lajmi, actress Isha Koppikar [Images] among others.

What if Deepika was in the movies during Guru Dutt's time? Would we see posters like the one alongside? Designer Uday Kuckian, whose parents also hailed from Mangalore, like Guru Dutt did, dares to imagine.

PS: An amchi -- as CSBs like to call themselves -- pointed out that we missed out Amrita Rao [Images] in our list of CSBs who made it in Bollywood. Which means Farah Khan's first two movies have had Guru Dutt's jaat bahens playing stellar parts -- Main Hoon Na, her first film as director, had Amrita cast opposite Zayed Khan [Images].