Home > Movies > Reviews

Nanhe Jaisalmer is charming

Sukanya Verma | September 14, 2007 18:06 IST


| | |
| --- | --- |
| A still from Nanhe Jaisalmer | |
| | |
| | |
| | |
| | |
| | |
| | |
Almost no film is like its trailer. Every which way, one is better than the other.

Like the promos of Nanhe Jaisalmer suggest it will be one of those films about a nervy kid trying to act beyond his years and a 'beta'-gushing movie star. As it turns out, Sameer Karnik's second film (after the Aishwarya [Images] Rai-Vivek Oberoi fluff, Kyun Ho Gaya Naa) is quite a well-meaning children's film. 

Everyone, pretty much, grows up idolising that larger-than-life someone. The need to be be perfect and popular leads young minds to worship their favourite film and sport stars. While the object of their wide-eyed fascination cannot personally attend to each and every little fan and give them a crash course in Moral Science, Nanhe Jaisalmer plays on this fantasy of 'what if they could?'.

Since the film is based in Rajasthan's tourism friendly city of Jaisalmer and not Mumbai, you won't find the star and his fan bonding over popcorn in multiplexes or unit khana at an elaborate movie set. While that could be another script, it is the Golden City's backdrop that gives the story that extra edge.

Ten year old camel rider, Nanhe, along with his constant four-legged companion Raja, makes ends meet by taking passengers on a dessert safari and other excursions.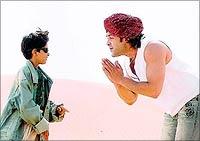 Director Karnik is only too happy to showcase the stunning locales nabbing every opportunity to offer the viewer a panaromic view of the awe-inspiring architecture of Bada Bagh and Gadisar Lake, to name a few.

Meanwhile, Nanhe loves Bollywood hero Bobby Deol [Images] (playing himself) to pieces. He addresses him as 'Dost', which interestingly was exactly what Baby Guddu referred to big brother, Sunny, in Rahul Rawail's lavish Samundar.

The two, apparently, have forged a unbreakable bond over numerous letters written from Nanhe's side by his sister, Jeeja. As the little earning member of his family, Nanhe still holds on to his childhood and yet realises the responsibility he faces as the son of a single working mother.

Though his fascination with Bobby is a subject of ridicule and disapproval among friends and family, Nanhe genuinely believes they are best of friends.

During the course of the film, Bobby, who is in Jaisalmer for a long outdoor shoot, interacts with Nanhe and guides him to come off age. In Bobby's charismatic company, Nanhe learns the precious lessons life, friendship and the importance of education.
 
Just when you think Nanhe Jaisalmer could be the ideal modern-day fairy tale, it stumps you with a bizarre, schizophrenic twist. The deviating climax dilutes the impact of natural born actor Dwij Yadav's perfectly magical performance.

Yadav, by the way, is simply enchanting in front of the camera. He is absolutely uninhibited and adorable whether the scene requires him to break into a stream of tears, or burst into a dimpled grin or just be obstinate, as characteristic of 10 year olds.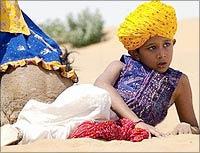 Sadly, Bobby Deol doesn't hold a candle to this talented lad. As Nanhe's idol, he comes across as nice and earthy, which is sweet but not spectacular enough to turn a crazy aficionado out of a regular kid and revolutionarise his imagination. Bobby, at best, makes it as the favoured uncle but never a super-hero.

Thankfully, the humour of Nanhe Jaisalmer is squeaky clean compelling the the supporting cast comprising of actors like Rajesh Vivek, Sharat Saxena, Pratiksha Lonkar, and Bina Kak to be at their endearing best.

Though never really lengthy, the only time Nanhe Jaisalmer truly tests your patience is when Himesh Reshammiya's [Images] insipid tracks show up. Surprisingly, the catchy-song machine fails to deliver for this kiddie flick.

Nanhe Jaisalmer might not be a big bait at the box office. Then again, its true credibility lies in its purpose not profit.

Rediff Rating:

Want to see this movie? Check out Rediff Movie Tickets!