September 14, 2007 12:51 IST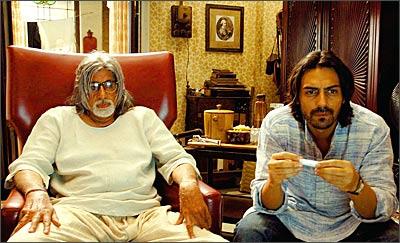 On the sets of a film, you cannot wish for a more supportive co-star than Amitabh Bachchan [Images]," says Arjun Rampal [Images] who costars with the Big B [Images] in Rituparno Ghosh's The Last Lear.
Also Read: Big B makes red carpet history
"But off the sets, if you are in a room with him, it is like being in a cage with a tiger," continues the actor with a chuckle. "He scrutinises everything you say, his eyes never leave you.
"But the tiger is really harmless, he is a vegetarian tiger," Arjun adds. "He is a tiger who has your interest in its heart. It is a double privilege to be with him working on a film or sharing a private moment or two."
The actor was chatting with a reporter in a swanky hotel in Toronto where The Last Lear was premiered.
Arjun walked the red carpet along with the Big B, spent several days in the city along with his other costar Preity Zinta [Images]. Preity plays an actress whose husband is extremely possessive and suspicious. The film features Amitabh as a Shakespearean actor who is wooed by a director (Arjun Rampal) to do his first film role.
"Mr Bachchan's discipline is legendary," Arjun continues. "But to experience it first hand is even more extraordinary. You may try you darn hard to beat him to the gym or to the sets or getting all the lines intact. But you can never win. He would be there at five, working out religiously. He always puts youngsters like me to shame!"
Many critics at the festival, who are familiar with Arjun's work, say that he is given a natural and spontaneous performance.
"It had to be that way," he says. "When you see Mr Bachchan doing something out of this world, you feel you should not let him and the film down in any way."
Rampal says one of his biggest challenges in the film was the English dialogue. "We speak English all the time," he muses. "It has become, like Rituda (director Ghosh) says, an Indian vernacular. Speaking the language among friends, family and others comes naturally to us. We do it all the time. But to do it in a film is a very difficult thing."
Like Preity, he too felt self-conscious on the first day of the shoot of doing the dialogue in English, he says.
"And then I heard Mr Bachchan speak," Arjun says, his eyes glittering. "I felt I had been transported to another world. I also knew that with Mr Bachchan being around us all the time, we would do a decent job too."
He had seen the film for the first time in Toronto. It was an oven hot version, Ghosh had said. "It had not been out of the lab for more than two or three days."
Arjun says the experience was overwhelming.
"I think I have done something I never done before," he says. "This is seriously a challenge to me to keep working and offering better performances. This would not have worked out so well if not for the trust Rituda had in us. Our morale was boosted by the presence of Mr Bachchan." 
Among Arjun's favourite moments in the film -- which opens in India in December -- is the scene in which he scolds a schoolboy who asks for Amitabh's autograph during an outdoor shooting stint. Arjun asks the boy if he knows who the actor is. The boy doesn't. "Why are you asking for the autograph then?" he fumes.
Arjun says that though his character in the film appears mean spirited in that scene, he felt that the scene sheds light on the kind of humiliation even well-known character actors or supporting lead players have to undergo.
"So many times, people who are visiting the sets have asked my autograph too," he says with a small laugh. "And occasionally, I have come across a person who is getting to know my name as I am signing the autograph. He is perhaps hoping that I spell every alphabet in my name."

Text: Arthur J Pais in Toronto