| | |
| --- | --- |
| Tusshar and Udita Goswami in Aggar. | |
| | |
| | |
| | |
| | |
| | |
| | |
Advertisement
September 14, 2007 17:37 IST


After watching Victoria No 203, I had no hopes of a good movie from Ananth Narayan Mahadevan. But Aggar proved me wrong. This well-woven thriller keeps you involved throughout, and one can't help but appreciate the director's efforts.

 

Aggar is a story of betrayal and obsession. Aryan (Tusshar) is in a mental asylum after killing his girlfriend (Sophie Chaudhary). He turns violent every now and then. Treating him is psychiatrist Dr Adi Merchant (Shreyas Talpade [Images]), who also helps Aryan get out on bail. But all is not hunky dory at the good doctor's home. His wife Jhanvi (Udita Goswami [Images]) accuses him of cheating on her.

 

Upset with her husband and his all-consuming job, she too throws herself into her work at an event management company. Meanwhile, Aryan joins Jhanvi's company and they soon fall in love. Things become sticky when Jhanvi finds out that the women she accused her husband of seeing is just an architect building a dream home for them.

 

She tries to convince her husband, but he is not interested in listening to anything. He is just happy her doubts are cleared. She then tries to break it to Aryan that her husband was not cheating on her and it was a simple misunderstanding, but Aryan fails to understand Jhanvi's problem and tries to kill her. What happens next makes up the rest of the story.

 

Though you can predict the end, the direction and plot is perfect. Shreyas Talpade puts in a great performance, proving he is one of our better actors from the present lot. He lifts the story with his excellent performance. As for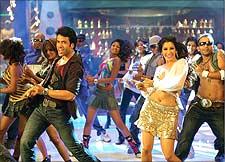 Tusshar, he is impressive, and clearly improving by the day.
Even Udita puts in a good performance, proving she is more than just a pretty face, while Sophie Chaudhary and Nauheed Cyrusi [Images] also do a good job.
The major disappointment is the music. It is neither good nor bad, just repetitive of Mithoon. His score sounds more like that of the Emraan Hashmi [Images] starrer Train, and here's also an overdose of Atif Aslam.
That aside, Mahadevan has done a commendable job. Please go watch it.
Rediff Rating: