September 11, 2007 12:48 IST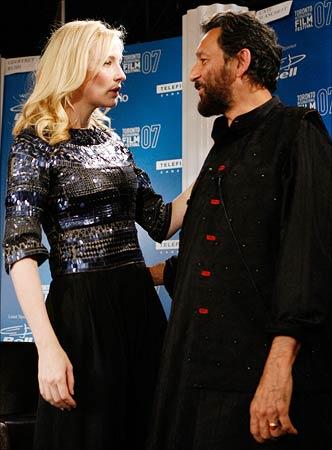 Short of blackmailing Cate Blanchett [Images], Shekhar Kapur [Images] seems to have tried every trick in the book to get the Oscar-nominated star to reprise the role of the British monarch, Elizabeth.
And now Hollywood is saying the film, Elizabeth: The Golden Age, which opens in October after premiering in North America at the 32nd Toronto International Film Festival could fetch a number of Oscar nominations, particularly for Blanchett.
Kapur, who has remained a close friend of the Australian actress since he directed her in the worldwide hit Elizabeth over eight years ago, met her at international festivals to persuade her to do the film.
But she refused many times, saying it would take a lot of energy for her to be in a historical film.
On one occasion, according to Entertainment Weekly, Kapur and actor Geoffrey Rush, who is also in the film, 'bumped' into Blanchett when she was dining at a ritzy restaurant in Los Angeles and began pleading with her to do the film.
Blanchett was worried that audiences may not want to see her again as Elizabeth. She did not want to spoil the legacy of the first film.
Fellow Aussie Rush did some bold talk. 'You are getting older, don't be so picky,' he reportedly told her. That was more than two years ago. She is 38 now.
Kapur has said he did not want to make just a sequel, and he insists that anyone who hasn't seen the first film can see the new one without problems. More than anything else, he says, it is Cate's incandescent performance that drives the film.
While Elizabeth looked at the early years of the queen's reign, Kapur now explores the relationship between the queen and the adventurer Sir Walter Raleigh.
Blanchett recently told an Australian publication she had 'remained really good friends with Shekhar and he and Geoffrey Rush had been talking about (the Elizabeth sequel) The Golden Age for a long time. I kept saying no because I couldn't see why.'
'But suddenly there was this fantastic script that had the potential to talk about a woman approaching middle age. And I thought that, if the first film was about denial, this one, in away, is about acceptance of that ageing process.'
So pleased is she with the film, according to Hollywood buzz, that she will sign on the dotted line if Kapur were to announce one more film in the series!
Text: Arthur J Pais in Toronto | Photograph: Getty Images