Advertisement
September 11, 2007 13:38 IST


What am I doing in these arty films?" asks Preity Zinta [Images] a few hours after her English language film The Last Lear had a red carpet premiere at the 32nd Toronto International Film Festival.

"I had thought for a long time that you get so poorly paid doing these films that you ended up not just being poor but starving," Preity says with a mischievous smile. "And I thought I would kill myself overworking under horrible conditions. Finally, there would be just two people seeing the movie."

Also Read: Big B makes red carpet history

Well, there were over 1,000 people for its Toronto premiere. The film travels from this film festival to half a dozen prestigious events including one in Rome.

It was one of the half dozen films from South Asia shown at the festival, which would have unveiled some 250 films from 60 countries by the time it ends on September 14.

Preity smiles broadly just as Rituparno Ghosh, the director of The Last Lear, passes us by at the penthouse conference hall of Royal York Hotel, for yet another interview.

"I call him Bikshu," says Preity, referring to his tonsured head and the kind of clothes a monk wears, except that the clothes must have cost him a small fortune. "But he is a monk who gives giving," she chuckles. "And he asks very little from you. He allows you a lot of space. He told me not to do much preparation before the shoot. Learn your lines, he said, and come ready to be surprised." She also calls him Rituda.

Compliment her heartfelt performance in The Last Lear, and she replies, "I have been lucky to work with some of our finest directors. But Last Lear holds a special place in the heart because this is very new to me."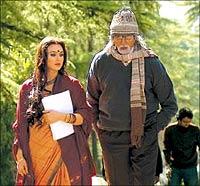 But she has not renounced the masala films, she adds.
"I enjoyed working in so many of them especially Jaan-e-Mann and Jhoom Barabar Jhoom," she says. "But now I am confident of doing other kinds of films. If they are going to shoot all of Shakespeare's works, I want to be in them. Like many literature students, I too read his work extensively during my English Honours studies."
She refers to her multi-layered and complex character whose suspicious husband never allows her peace of mind. Her entanglement with a veteran Shakespearean actor (Amitabh Bachchan [Images]) who is making his movie debut makes her life interesting but complicated.
"I don't like dark films, and characters with dark impulses," she says. "But here I fell in love with all the film's characters because Rituda has crafted them so well. They are not just black and white characters. There is a lot of grey area too."
She was expected to work on the film for 15 days. "But everything was going so well, my work was over in just nine days."
She has worked with Amitabh Bachchan in three films (and two more films in which she did not have scenes with him) but working on The Last Lear was a unique experience, she says.
"He is one star who gently takes you up, makes sure you give out your best," she says. "Working with him is like learning one's craft and improving oneself in film after film."
She had been concerned about speaking her lines in English, throughout the film. "In real life, we use English all the time," she says. "But saying it on screen was going to be a very different experience. So I was tense, and I guess everyone else was too. Mr Bachchan told me at one point that he too was scared but there was nothing to really worry about. We should be able to do justice to our parts, he assured me. Even then I wondered how we, who happen to be hardcore Hindi film actors, would meet the challenge."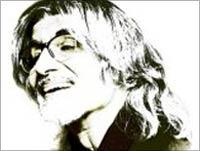 On the first day of the shoot when she heard Amitabh Bachcan say his lines, she was astounded. "I admired the way he pronounced the words," she admits. "His diction was wonderful too. I felt confident that I can learn from him, and that I would be alright. He made it sound as if it is the only language in the world. His help during the shoot was immense."
She also signed Toronto-based Deepa Mehta's Heaven On Earth in which she plays an abused arranged marriage bride from India who decides to take destiny in her own hands.
Like The Last Lear, Mehta's project could also be considered arty, though her last film Water grossed over $5.5 million in North America making it the highest grossing Hindi language film. Worldwide, it has grossed over $10 million.
Heaven On Earth will be shot in India and Canada [Images], especially Toronto.
"This role is even more complex than my most complex roles," she says. "I will be challenged every moment I am working on that film."
She won't discuss the role further. "I am secretive about what I am doing in a film," she says.