September 10, 2007 18:08 IST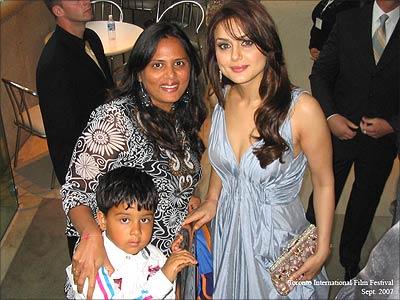 Reader Sandip Dagli met Preity Zinta [Images] at the world premiere of her film, The Last Lear, at the ongoing Toronto International Film Festival.
The premiere was attended by her costar Amitabh Bachchan [Images] and Arjun Rampal [Images].
Preity was kind enough to pose for a photograph with my wife Amisha and son Arav.
Also Read: Big B makes red carpet history
The Last Lear is a well-made film with powerhouse performances from the lead actors. Amitabh proved once again why he is the best of the best.
If you encounter/meet/see film or television personalities and take a photograph or a video of the star(s), please scan the photograph(s) and mail the pictures and video clips to us. We will feature the best images and video clips right here on Rediff Movies.