Home > Movies > Reviews

Dhamaal movie!

Syed Firdaus Ashraf | September 07, 2007 18:16 IST


| | |
| --- | --- |
| A still from Dhamaal | |
| | |
| | |
| | |
| | |
| | |
| | |
Four unemployed men are on a treasure hunt for booty hidden in a graveyard somewhere in Goa [Images]. And their search is pure dhamaal!
Indra Kumar's film is true to its name, and is a senseless comedy in which three of the actors -- Riteish Deshmukh [Images], Jaaved Jaaferi and Aashish Choudhary are a treat to watch.
Supporting them in this laugh riot is Inspector Kabir (Sanjay Dutt [Images]). Arshad Warsi, however, looks lost in the film; one gets the feeling his heart isn't quite in it.
A loose copy of the Hollywood film It's a Mad Mad World, Dhamaal works very well because of one-liners and the comedy.
A dying gangster Bose (Prem Chopra) shares a secret to four unemployed youth about his life's savings -- Rs 10 crore -- hidden in a graveyard in Goa. Indra Kumar injects humour even in this tragic scene. Watch Riteish interacting with the gangster. He provides more comedy later when he mimics Sanjeev Kumar while holding a gun. But Jaaved Jaaferi beats them all. He is, by far, the funniest of the cast.
The story has nothing unusual. As the film progresses, the friends quarrel with each other and go their separate ways to hunt for the booty. Inspector Kabir is also searching for the booty, and he is brilliant.
The rest of the cast -- Paritosh Painter, Balwinder Suri, Asrani and Bunty Rathore -- are also very good, and the way Indra Kumar weaves in different comic characters is brilliant.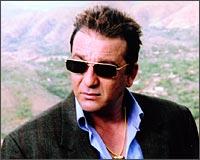 Actors like Vijay Raaz (as the Air Traffic Controller who tries to give directions to a plane that has lost its pilot, Manoj Pahwa, to binge drinking), and Sanjay Mishra (a dacoit) take the film to another level.
However, the film could have been tighter. Editor Sanjay Sankla should have been better with the scissors.
Besides, the story doesn't run too deep. It is never explained how the four good-for-nothing blokes become friends in the first place.
Despite the minor flaws though, Dhamaal is similar to David Dhawan's brand of comedies: Fully dhamaal!
Rediff Rating:

Want to see this movie? Check out Rediff Movie Tickets!