| | |
| --- | --- |
| A still from Apna Aasmaan | |
| | |
| | |
| | |
| | |
| | |
| | |
Advertisement
September 07, 2007 14:23 IST


This week's release Apna Asmaan has already made its festival rounds and won accolades. Starring Irrfan Khan [Images] and Shobhana, the film deals with the delicate issue of parenting and autistic children.

Ravi (Khan) and Padmini (Shobhana) are happily married. They have a baby boy Buddhi Raj (Dhruv Piyush Panjnani), who is autistic. Padmini blames Ravi for the child's mental state because he had dropped him when Buddhi was small.

Buddhi is good at drawing but his mother wants him to be good at mathematics, as she was a gold medallist herself.

Seeing her son is not like other normal children, she takes him to temples, churches and babas, hoping for a miracle.

Meanwhile, Dr Satya [Images] (Anupam Kher [Images]), who has done a lot of research on the subject, discovers a drug that is a brain-booster. So, Ravi meets up with the doctor and makes Buddhi take it. But the brain-booster has its side effects -- one of them being amnesia.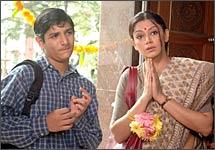 The drug changes Buddhi, and he suddenly becomes a very good mathematician, faster than a computer. But he forgets his parents in the bargain.
Director Kaushik Roy makes a good point in showing that present-day parents are very ambitious and want their children to be geniuses even though they may not be gifted at all.

However, Roy does not tackle the subject of autism very well; he fails to really bring it out. Considering the film was born out of his own autistic son, Orko, he should not have commercialised the subject. It should have been dealt with some sensitivity, instead of entering the fantasy world of brain-boosters.
Irrfan and Shobhana are fantastic. But we do not feel sorry for the child, nor sympathy for the parents.
Rediff Rating: