| | |
| --- | --- |
| Akshay Kumar | |
| | |
| | |
| | |
| | |
| | |
| | |
Advertisement
September 05, 2007 16:05 IST


He turns 40 on September 9. And on the occasion, we list the 40 facts you did not know about Akshay Kumar [Images]. Here goes!

Don't Miss: Akshay, 40

1. His real name is Rajiv Hari Om Bhatia. While the media affectionately addresses him as Akki, he still goes by the nickname of Raju among his near and dear ones.

2. Born in Amritsar [Images], Akshay was raised in Old Delhi' Chandni Chowk neighbourhood before shifting to Koliwada in Mumbai.

3. The man stands tall at 6'1.

4. He attended Mumbai's Don Bosco School where he formed a gang of ten friends who called themselves 'Bloody Ten'.

5. The Virgo dude left for Thailand to master the ancient martial art of Taekwondo. Currently the actor, along with co-star Deepika Padukone [Images] is training in Wushu for his upcoming caper, Made In China.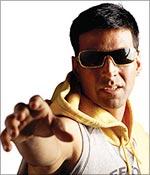 6. While in Bangkok, Akshay worked in a restaurant called Metro Guest House to make ends meet.

7. Even though, Deedar, co-starring Karisma Kapoor, was the first film he signed, the over-the-top rich guy-poor girl love story, Saugandh was the first to release.

8. The man enjoys quite a loyalty among certain filmmakers. He has starred in all films produced by Keshu Ramsay (Mr Bond, Paandav, Sabse Bada Khiladi, Khiladiyon Ka Khiladi, Mr and Mrs Khiladi, International Khiladi, Khiladi 420, Khakee, Insan, Family: Ties of Blood) and directed by Vipul Shah (Aankhen [Images], Waqt: The Race Against Time and Namastey London [Images]).

9. Though nominated seven times at the Filmfare awards, he's won just twice -- Best actor in a comic and negative role for Garam Masala [Images] and Ajnabee [Images] respectively. 

10. The handsome star, branded 'Casanova' by the glossies, has previously dated actresses like Pooja Batra [Images], Raveena Tandon [Images] and Shilpa Shetty [Images].

11. The man finally gave into domestication marrying Rajesh Khanna and Dimple Kapadia's [Images] elder daughter, Twinkle Khanna [Images] on December 12.

12. Twinkle and Akshay have a four-year-old son, Araav. The latter being the reason why the star with a gummy grin decided to sign on Sajid Khan's Heyy Babyy!

13. While Aamir Khan [Images] is sold on Coca Cola and Shah Rukh Khan [Images] routes for Pepsi, Akshay endorses Thums Up. For the latest Thums Up commercial, the actor executed a breathtaking Yamakasi stunt. His other endorsements include Microsoft XBOX 360, Grasim [Get Quote] Suitings and D'Damas.

14. Has worked in seven films with Khiladi in the title -- Khiladi, Main Khiladi Tu Anari, Sabse Bada Khiladi, Khiladiyon Ka Khiladi, International Khiladi, Mr and Mrs Khiladi and Khiladi 420.

15. Like his reel-dad in films like Ek Rishtaa and Waqt -- Amitabh Bachchan [Images], Akki too has played a police officer in a large number of films, namely Kayda Kanoon, Mohra, Main Khiladi Tu Anari, Paandav, Sabse Bada Khiladi, Tu Chor Main Sipahi, Insaaf, Daava, Taraazu, Angaaray, Meri Biwi Ka Jawab Nahi, Khakee, Police Force: An Inside Story and Aan: Men at Work.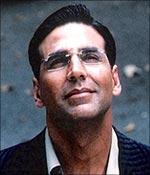 16.  His favourite cuisine is Thai and Mom-made Punjabi khana. Also loves to gorge on Indian mithais and the king of all fruits, mango.

17. Akshay's quite sentimental about the 'firsts' in his life. He still keeps his first house, car and motorcycle.

18. Lifting the 350-pound weighing WWF champ Undertaker (Khiladiyon Ka Khiladi) proved to be a daunting task for the fit hero when he nearly broke his neck and back. He was eventually treated extensively, for the same, in the US.

19. Long before stardom happened, Akki made a blink-and-miss appearance as martial arts instructor in Mahesh Bhatt's [Images] Aaj starring Kumar Gaurav.

20. Yash Chopra's Dil To Pagal Hai, Rajkumar Kohli's Jaani Dushman: Ek Anokhi Kahani and now Farah Khan's [Images] much-awaited Om Shanti Om are the only times Akshay has made an exception to take on a guest appearance.

21. The Mast Mast hero is a big fan of Ayurvedic medicine and treatments.

22. He has worked with both sibling sister duos of Karisma (Deedar) and Kareena Kapoor [Images] (Talaash) and Shilpa (Dhadkan) and Shamita Shetty [Images] (Bewaafa).

23. Everybody loves him. But Akshay adores Jackie Chan [Images], Danny Denzongpa and Amitabh Bachchan.

24. Known for his daredevil stunts, the man almost has a face off with a shark in Cape Town, South Africa, while shooting for Aankhen. A scene required him to swim alongside a shark. The shark, however, turned a bit hostile but Akki was rescued in the nick of time.

25. Did you know the Hera Pheri star was the original choice for films like Phool Aur Kaante and Water? The parts later went to Ajay Devgan [Images] and John Abraham [Images], respectively with whom he co-starred subsequently for hits like Suhaag and Garam Masala respectively.

26. While you may be a fan of his films, his eternal favourite is the Oscar-winning Italian classic, Life is Beautiful.

27. Fit and healthy is Akshay's mantra in life. He enjoys jogging, trekking, volleyball and adventure sports.

28. He's played a double role thrice in his career in the movies Jai Kishan, Aflatoon and Khiladi 420.

29. Want to know his most popular screen alias? He's played Vijay eight times and Raj, seven times, out of which five were Raj Malhotra (which was incidentally Shah Rukh Khan's famous screen name in Dilwale Dulhania Le Jayenge [Images]).

30. Akki is all about re-inventing his looks. Be it sporting a pony tail (Khiladiyon Ka Khiladi) or sporting a goatee beard (Bewafaa) or lending auburn highlights to his hair (Namastey London) or opting for a shorn look with a shabby stubble (Tashan).

31. After driving a Fiat and Mitsubishi's Pajero, Akki has settled for the spacious and swanky Toyota Land Cruiser.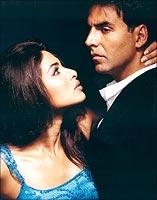 32. Whilst shooting for Garam Masala, the actor banged into a pointed cabinet which resulted in a sharp cut on his head. But the true blue professional Akshay is, instead of getting medical attention, he continued to work.

33. If not an actor, Akki would probably end up as, no surprise here, a martial arts teacher!

34. Akki sang and shot a music video of the Punjabi devotional song, Nirgun Raakh Liya. The profit made from this endeavour were donated to the victims of the train bombings of Mumbai on July 11.

35. Not comfortable spewing anti-Pakistan dialogues in the name of jingoism, Bollywood style, Akshay nearly walked out of Anil Sharma's Ab Tumhare Hawale Watan Saathiyon. Sharma, however, made necessary changes and AK was on board again. The film bombed anyway.

36. He may get along with everyone but Akshay's closest pals -- builder Vicky Oberoi (married to Swades [Images]' Gayatri Joshi [Images]) and Ajay Virmani, a businessman are not from the film industry.

37. He loves to holiday in Goa [Images], Bangkok and Canada [Images].

38. AK hosted a martial arts documentary titled 'Seven Deadly Arts with Akshay Kumar' for National Geographic Channel.

39. Seeing his disinterest in academics, Akshay's dad admonished him and asked what will he do in the future. Our man prophetically replied that he'd become a 'hero'. Truer words were never spoken.

40. Aamir Khan and Ajay Devgan are not the only known pranksters. Akshay's 'victims' are director duo Abbas-Mustan and his Bhool Bhulaiya co-star Vidya Balan [Images].