Home > Movies > Interviews

The Rediff Interview / Kaushik Roy, director

'Learning to accept autistic kids is critical'

September 03, 2007


| | |
| --- | --- |
| Kaushik Roy | |
| | |
| | |
| | |
| | |
| | |
| | |
Being the nephew of renowned director, the late Bimal Roy, it is not surprising that Kaushik Roy wants to dabble in films too. And he has embarked on this path with his first feature film, Apna Asmaan.
Kaushik has been in the field of advertising and marketing communication for three decades. Although he has a passion for cinema (he wrote his first script when he was 15 and bunked college to work as a directorial assistant for a feature shot in the Sunderbans), he directed his first feature film after several years.
A painter and photographer, Kaushik has also showcased his art at Tina Ambani's Harmony Show. Despite his hectic and demanding job as President, Brand Strategy and Marketing Communication with Reliance Industries [Get Quote], Kaushik produced and directed Apna Asmaan which is slated to release on September 7.
The film is a story of love and redemption -- the journey of the parents and their dreams, despair, fears and follies of coping with a mildly autistic child. Apna Asmaan has won the German Star of India at the Stuttgart Festival and is selected for Argentina's San Luis Cine Festival.
He gives Radhika Rajamani the details.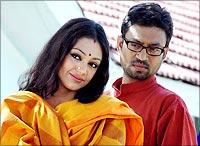 Apna Asmaan is inspired by your son, Orko. How much of the film is fiction and reality?
The film started in a personal way though it is not autobiographical. It started with a dream in 1999. I dreamt that my younger son Orko (who is mildly autistic, a slow learner and not like regular children) was doing extremely well in life, became famous but did not recognise me. Immediately, I told my wife Nina. This triggered the thought. My son was fine the way he is and he had started drawing and painting. We saw in him the urge to do something and he was also proud of the recognition he got when people appreciated his work. We had an exhibition of his paintings too.
Although I wanted to do films, I was far away in corporate life with a materialistically rewarding job. But emotionally, I wanted to do something and I felt that if I didn't do something I would regret it. Though I fleshed out three interesting ideas, I felt I should start off with the first one as that is the one I lived with.
To some extent, Apna Asmaan is real -- the frustration of the parents when they have such a child is real. But the story had to unfold like a drama. I wanted to make a point come through the film -- that is, learning to accept is critical. If not, the parents will be unhappy.
The brain booster in the film is allegorical. Turning a disabled child into a genius -- though this is fictional, it is hugely relatable in India. People are looking at magical remedies -- even visiting babas. So I brought this in and there are two doctors -- one rational and the other maverick.
Do you want society to look at the differently able people in a different and dignified way through the film, and understand their needs and ambitions?
Certainly. I feel parents should look at themselves in a different way. If you have a child with a problem, make the strongest point stronger and do not look at it negatively. It could be any issue. Every child has the ability to look at the future in his or her own way rather than what parents think is the future. Parents should give their children freedom to express their desires.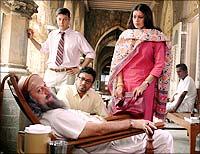 Is the film a message to parents who have such children and are depressed with the situation?
Absolutely. God gives parents the opportunity of being the bow and the child the arrow. The more we bend and stretch, the more the arrow will move from the bow.
Kaushik quotes a verse from Kahlil Gibran's Prophet:
Your children are not your children.
They are the sons and daughters of Life's longing for itself.
They come through you but not from you,
And though they are with you yet they belong not to you.
You may give them your love but not your thoughts,
For they have their own thoughts.
You may house their bodies but not their souls,
For their souls dwell in the house of tomorrow,
which you cannot visit, not even in your dreams.
How did you research for the film?
As parents, we went through the turmoil. Besides our personal experience, I was also exposed to other children and their problems. There is a high rate of children from broken homes. Also, autism is a new world phenomenon, a scary thought. There is no reason why it happens and there are many theories. According to the American Society of Paediatricians, if 15 years ago one in 2,005 suffered this, today one in 166 have autism. I want to hold a mirror and say these things happen.
Were Irrfan Khan [Images], Shobhana, Rajat Kapoor [Images] and Anupam Kher [Images] your first choice for the cast?
I needed actors who would be credible, and that's why I chose them. Their performances are amazing.
You have a young boy Dhruv Panjuani.
I needed a boy who had a vulnerable and innocent look. Dhruv was one of the three shortlisted candidates. Dhruv was put through workshops and he came out with flying colours.
You chose Leslie Lewis to compose music.
Leslie and I have known each other from the time he composed jingles. His music has a strong melodic content.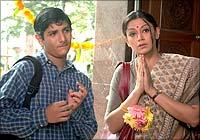 How did you manage to shoot given your hectic job?
Mukesh Ambani and Nita Ambani have been nice to me. They had immense faith in me and believed that I could do good cinema and encouraged me. I took a 40-day special leave and shot the film in Mumbai in 32 days.
You produced and directed the film yourself.
I had a co-producer Umang Pahwa. But I had to handle the creative side and raise funds and sell the film. It is stressful. Sony Pictures is distributing the film.
Do you think the multiplex will come in handy for such films?
The multiplexes are interested in commercial films and not so much in parallel/good/meaningful cinema. The idea of the small theatres in the multiplex was to promote such small films but they have been a huge letdown.
Cinema has been your passion but what took you so long to make a feature film?
When life is secure and there are other people dependent on you, one wouldn't want to take risks. Perhaps I was never adventurous. I was cautious with no risk-taking ability. But when I decided, I took the plunge.
What next?
I have to decide whether I would make a film for India with an overseas exposure or one only for the world market with some exposure in India.