September 03, 2007 14:48 IST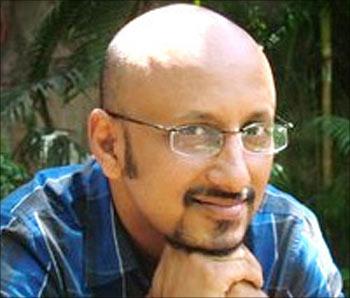 We asked readers to tell us if they had grown up or studied with movie or television celebrities. And we got a great response!
Sharing his memories is Brahmachari Shuvo, who studied with Shantanu Moitra. 
We grew up together in Patel Nagar, New Delhi.
We were both dropouts from the Rabindrasangeet classes that our parents forced us to go to. I remember him taking Russian as a foreign language in Springdales.

His Russians skills comprised singing a song Chunga Changa, which I'm was pretty sure he made up.
When his parents shifted to CR Park, I remember long singing sessions in the empty first floor where the walls would echo with our voices, muffling all obvious flaws.


Other memorable times were of playing cricket and our Goa [Images] trip during our early teenage years. His cricket skills were more formidable than his singing. His leg spin was very formidable when we played galli cricket together.
But it was during college fests that his musical talents really shone.
We drifted apart when my parents moved out of Delhi. Recently, thanks to the Internet, we're in touch again. 
Bubu (Shantanu's nickname) hasn't changed a bit, unless you count his bald pate. His son, however, reminds me of the 7-year-old friend I would hit for a six in muhalla gallis.
Grew up with a star in the same neighbourhood? Studied with them in school? Had a star friend in college? Hung out at the canteen together? Bunked classes? Maybe even hit on the same pretty people?
What were they like? What did you think of them then? Did you ever foresee their success?
We look forward to hearing from you.
Don't Miss: Stars Readers Studied With