Home > Movies > Interviews

The Rediff Interview

'Hollywood doesn't know what to do with me'

October 31, 2007



Waris Ahluwalia is one of the brightest new stars in the jewellary business in America, selling his product in many high end stores. But when he is walking the streets of any big city, he is recognised for his movie roles.

He started with Wes Anderson's The Life Aquatic with Steve Zissou four years ago. Now, he returns to Anderson's cinema in a small but important role as a stern train steward in The Darjeeling Limited. 

But it was Inside Man that got him wide attention and praise before Anderson would write another part for him. The film, which grossed about $200 million worldwide, was quite a hit, and went on to make a small fortune (exceeding $150 million) in video sales and rentals across the world.

"When a friend called me and said Boston Globe had praised me in its review, I thought someone was kidding me," Ahluwalia says. How can anyone praise me when the film had Denzel Washington, Jodie Foster and Christopher Plummer, I wondered."

Ahluwalia, who was about five when his family migrated to America, and is always seen with his flowing beard and a classy turban, also wears a  elephant pin -- designed by his own company -- to show his support for the species and an organisation called Elephant Family. The cast of The Darjeeling Limited and Anderson wore the pins at the premiere of the film in New York and several other cities.

The 32-year-old talked at length with Arthur J Pais about his life, his Sikh identity, jewellery business and movies.

You are being recognised in so many places.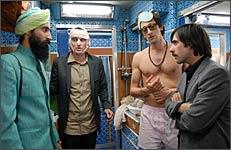 It started happening after Inside Man. It's interesting how people come up to you depending on where you are. Students, security guards, delivery guys, and occasionally, a film actor or two.
People would be surprised to hear that you cannot find an agent in Hollywood.
A friend of mine, an actress, told me that it is important I should have agent, even if I were to act in a film occasionally. She called up her agent, and the agency just didn't get it.
What was the problem?
They were asking questions like: What are we going to do with him? Is he going to trim the beard? Is he going to take off the turban? When I told them that the turban and beard will remain forever, they were surprised. It was like that they had not seen someone like this before in the movies.
What else did they tell you?
They were just like, 'Is he always like that?' And later they would say, 'We're afraid you're going to get typecast. And I would say, 'Well, me too.' But it hasn't happened
But it could happen?
Well, I think there are enough filmmakers like Spike Lee and Wes Anderson who will know what kind of parts to write for me. I can wear the turban and have the bear in film after film and yet play different characters. The role Wes offered me in Life Aquatic didn't call for an Indian-looking guy. It wasn't a typecast role. I hope that 20 years from now, there are going to be more Sikhs in the movies.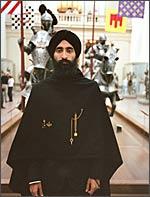 What else went through your mind when agents turned you down?
I thought Hollywood doesn't know what to do with me (laughs). I feel like the black artists in Hollywood in the 1940s or early 1950s. Hollywood did not know how to deal with them.
You have said acting won't be a full time career for you but how do you think you will get interesting parts in the movies?
Word of mouth, and the fact that I have been in Spike Lee and Wes Anderson's films. But a few years ago, it surprised me that Spike Lee could call me. An acquaintance on the set of Life Aquatic had asked me if he could pass on my number to Spike. Soon, Spike calls up and says he wants me to read for a film he was casting  Seriously, it was the first audition for me; Wes had not auditioned me, you see. He had merely asked me to read the script declaring that the role was mine to take. With Spike it was a different experience but I got the part within three days of the auditioning.
What was the biggest challenge for you in the Spike Lee movie?
Spike said,  'I want you to make this part your own.' I believe it was the only part of the whole movie that had not been written. Spike and I worked that character out, keeping in mind the misunderstanding and stereotyping people suffered after 9/11.
I am sure many people have asked you this: You are a jewellery designer. How did you get into acting?
First, you must know how I became a jeweller.
Tell us.
I had no idea what I wanted to do in life. I let my destiny take me where it wanted me to go. I kept trying my hand at many things after I graduated with a business degree from Baruch College in New York. My father died when I was getting into college. My mother never pressured me to do anything. One thing leading to another, I landed in Hollywood to meet with a few friends I met in New York night clubs. On a whim, I started designing a few rings, and they caught the attention of a well known and very expensive Hollywood store.
And that led you meeting Wes Anderson?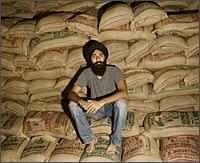 I was designing Wes' cufflinks when he asked me what I would be doing a few months down the road. One day, he asked me what I was doing for the second half of the year. I had no idea why he asked me that. I knew he was working on a film, but I wondered what he might want of me in the film. When I asked him why did he want to know of my plans, he said he would tell me later. The next day he asked me to read the script of Life Aquatic and see if I wanted the part.
He said the film would be shot on great locations including Rome, and there would be  excellent food.
Weren't you scared of acting for the first time?
I'd never acted before but I surrendered to Wes. I felt he instinctively knew I could deliver. It was a leap of faith for me.
What else do you remember about your sojourn in Rome?
More than anything else, it was the thrill being in Rome, a city I had visited before, in a very different capacity that I remember. And the company of people like Bill Murray.
Did you become friends soon?
I had admired many of his films, particularly The Ghostbusters. I thought I would be intimidated but at the first dinner in Rome with the movie unit, he talked to me about many things. He was very courteous and friendly.
Has Anderson told you what made him offer the role of the train steward  to you?
Well, he wrote the part with me in mind. (Laughs)
How did you get to deal with the cobra?
I don't remember reading it in the script. I get on the train (used in the shooting) one day and someone tells me that  Wes wanted to see me. So I go into one of the compartments, and what do I see? Wes was sitting there with the cobra in his hand.
Why was he holding the snake in his hand?
That is Wes. He likes to make you feel he's not making you do anything he would not be doing. He was saying, 'Look, boys, see the snake?' I wasn't crazy about it but I ended up doing the scene.
Amara Karan (who is also featured in the cobra scene) tells us she was very scared of the scene.
(Chuckles). I guess so but Wes knows how to calm people.  
Many people in the Sikh community look up to you now.
I do not want to be a role model but I am glad to let people know through my few films who Sikhs are. And I am surprised by the reaction Sikhs have toward my films
Why is that?
Though my parents inculcated in me Sikh ideals, I grew up in a part of Brooklyn that had no Sikhs, let alone another Indian family. The only Sikhs I knew were the relatives who visited us. But I am glad that I am being connected to the larger Sikh community, apart from my relatives and family friends.