Home > Movies > Interviews

The Rediff Interview

Meet the cool villain of Tamil cinema

Shobha Warrier | October 29, 2007



As Ratnavel, the jealous, maniacal, impotent husband in Satham Podathey, Nitin Satya [Images] was a revelation. Nobody expected such a negative character to hog the limelight when the film had two known actors in it; Prithviraj and Padmapriya. With that one role, he became the talk of the Tamil film industry.

In this interview, Nitin Satya speaks about the role, how he landed up in films and more. Excerpts:

What is a Masters graduate in Business Administration from London [Images] and a sportsperson who represented Tamil Nadu at the National level in bowling, doing in films?

I always liked films but it was only when I was doing my Masters in London that I realized acting was my calling. I went there with the intention of taking my MBA and then work for an MNC. Even today, if I tried a job in a company, I may be earning a cool five or six digit salary but I wanted to act in films.

How did your family react to your decision?

Luckily, my family has been my biggest support. They have given me full freedom to do what I want.

Was it easy getting your first role??

It was not. I had my portfolio done and went with it to each and every company. Many big companies chucked me out literally. Still, I didn't lose heart. I wanted to win. That was the fire I had and I still have it.

Didn't you feel bad?

I was prepared for this kind of a situation. Humiliation and insults are there everywhere. But I was mentally prepared for this. My only aim is to be known as a good actor.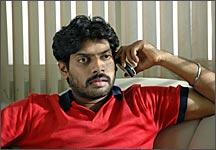 Director Saran's office then gave me a chance to dance in a song in Vasool Raja. What happened was many young heroes were in contention to do that song in cameo roles. Fortunately, Saran had faith in me and I did that song.
How did Chennai 600028 happen? Because you knew Venkat Prabhu and S P B Charan?
I knew them from my bowling days. At that time, all of us were jobless. I represented Tamil Nadu at the National level in 1998-99. I used to play all the games. Sport was in my blood but I never knew that acting would overcome that passion one day.
Even when in London, I would play football and cricket. Of course, Charan, Prabhu and myself would play gulli cricket too. But we never had any idea that one day we would be making a film. Chennai 600028 happened from our gulli cricket experiences. Despite many hurdles and ridicules, we made the film and it went on to become such a rage. During the making, we didn't have sleep or food -- we only had the film in mind. We gave not 100 per cent but 200 to the film.
Thank God, all of us are busy now.
Would you say Satham Podathey is a turning point in your career?
Yes.  Actually I had started working on Satham Podathey first and Chennai 600028 after that. Due to some problems, the shooting of Satham Podathey got delayed by six months.
Did you have any doubt about accepting the role of Ratnavel, that of an impotent jealous husband, when it was offered to you?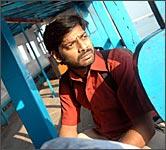 No, not at all. I was happy that somebody was trying to quench my thirst to perform. In fact, I want bigger things than this. It was a challenging role. I knew the character would give me 80 per cent negative publicity and 20 per cent positive publicity. But I feel any publicity is good.
Your body language as Ratnavel who was a failure as a husband but extremely jealous of his wife, was very good. What kind of research did you do to achieve the impact?
As you know, he became impotent because he was an alcoholic. So, I went to Alcoholics Anonymous twice and spoke to a few people but it was extremely difficult for me to listen to their personal stories. While I was there, I observed their body language. I wanted to know how a man who was mentally and physically dejected would behave and react.
I am also a hockey player in the film. So, I went for a month-long training in hockey as I had not played the game before. 
You underplayed a psychopathic character which is generally portrayed loudly. Was it your decision or director Vasanth's?
Basically it was the director's choice of creating the script that decides how a character should be portrayed on screen. The script wanted him not to be loud. I also didn't want to overact just because he was a psychopath. I preferred subtle acting. I watched a lot of films to understand what subtle acting is all about. So, in addition to what the director wanted, I gave my inputs.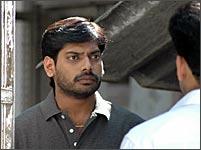 Was it easy for you to get into Ratnavel? How much did you assimilate him?
When I was doing Satham Podathey, I got many offers but I wanted to concentrate on this character alone. I wanted to be Ratnavel and didn't want to be distracted. When I was struggling hard, nobody offered me any roles, so I could have grabbed all the offers but this film and this character were so important that I wanted to be fully into the character. Somehow, the moment I reached the sets, I was Ratnavel and not Nitin Satya. I forgot myself during the period.
It took me some time to come out of Ratnavel too.
Were you nervous when the film got released?
I think for an actor, the date of his film release is more important than his birthday. I was nervous because I had struggled for one and a half years and I wanted to know how people would react to the film and my performance. But at the premier, when people from the industry like Simbu, Yuvan, etc hugged me, I felt the hard work has paid off.
Are girls scared of you now?
I think they are. When girls see me, they say, 'Hi Ratnavel' in a serious tone. But they were happier to call me Palani after Chennai 600028. But I am happy because as an actor, I have succeeded.
You are not bothered about your image...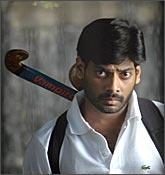 I don't want to get trapped in any image. I want to be known as an actor. I want to be known as actors like Naseeruddin Shah [Images], Om Puri [Images], Atul Kulkarni, etc. I want to do lots of good films.
Do you have any role model in films?
Ajith is my role model. Like him, I have also come from a non-filmi background. I came to know him when I did Ji with him. He has become a hero and a super hero from zero.
So, there is no question of you going back to Business Administration?
I am here to prove myself. No matter what, I want to win.
Photographs: Sreeram Selvaraj