Home > Movies > Reviews

Bal Ganesh is worth a watch

Ameeta Gupta | October 29, 2007 16:04 IST



The success of Hanuman [Images] in 2005 has spawned a rising trend of animated films in Indian cinema. Like the part animation, part live action film, My Friend Ganesha.

Joining the bandwagon is Shemaroo's Bal Ganesh, directed by Pankaj Sharma. The film's main protagonist is in 3D.

The first part of the film -- about the child's transformation into Lord Ganesha [Images] -- is enthralling and fast-paced. The first 20 minutes of the film beautifully illustrate the confrontation between the young Lord Ganesha and Lord Shiva [Images]. On his mother's (Goddess Parvati) orders, Ganesha stands guard at the door as she goes for her bath. He lets no one in, not even his father Lord Shiva. He threatens him, but Ganesha doesn't budge.

So Lord Shiva unleashes Nandi and his other followers on him. Ganesha single-handedly tackles them. He even brings down Lord Brahma. The scene is complete with Lord Shiva doing his dance of fury -- Tandava -- and the beheading of Lord Ganesha, witnessed by Lord Vishnu and Goddess Laxmi. Finally, on Parvati's request, Lord Shiva brings Lord Ganesha back to life by giving him an elephant's head.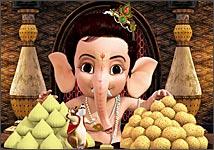 The first hour flows smoothly with other enjoyable moments created by Mooshak, Ganesha's adorable rat companion, who seems to shares some characteristics of the squirrel in 20th Century Fox's Ice Age.
It's fun watching the child Ganesha constantly getting into trouble with his mother and his attempts to pin his folly on Mooshak. Children will enjoy watching these two friends frolic around the Kailash Parvat.
The second part deals with Ganesha as he circles his world (read his parents), while Lord Kartika (Lord Ganesh's younger brother) circles the physical world on his peacock.
Lord Ganesha's insatiable appetite is depicted through a scene where he is invited for a meal at Lord Kubera's house. Even after tucking in a huge amount of food, Lord Ganesha is not satisfied. He wants more and goes as far as to hilariously threaten to eat Lord Kubera himself if he refuses to serve him more food.
The second half, though, could have done with some editing, especially the battle at the grand finale.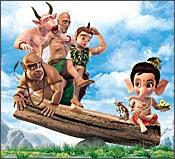 The song Ganpati Bappa Maurya and the theme music for Lord Shiva stand out, though the soundtrack by Shamir Tondan and Sanjay Dhakan is a letdown.
The animation is mostly good, but some glitches are visible. Bal Ganesh can't be compared to the likes of Pixar's Finding Nemo. It's more likely to fall in the category of the 3D cartoons on Cartoon Network.
That said, the animated characters of Bal Ganesh are emotive (excellent work done by the voice over artists). The animated characters of Lord Ganesha and Mooshak are consistently endearing throughout the film as they go about their naughty antics.
Overall, Bal Ganesh is a good effort, and worth a watch.
Rediff Rating:

Want to see this movie? Check out Rediff Movie Tickets!