Rajni heroine opposite Desperate Housewives hunk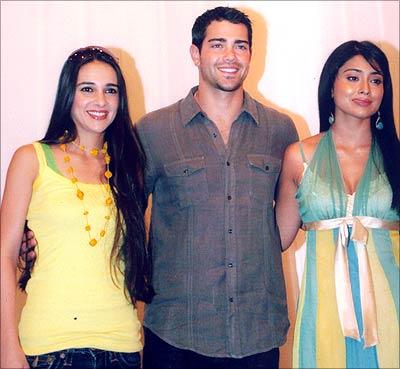 Shriya Saran has bagged a role opposite Desperate Housewives hunk Jesse Metcalfe in a Hollywood film. Shriya, who was Tamil superstar Rajnikanth [Images]'s heroine in Sivaji, will play an Indian girl who falls in love with an American boy.
The movie -- in which a call centre serves as the backdrop -- will be shot in Mumbai, San Francisco and New York. The role was earlier offered to Priyanka Chopra [Images] but she had prior commitments.
The film will be produced by tennis player-turned producer Ashok Amritraj's Hyde Park Entertainment and is likely to release next year. Amritraj described the film as "a mainstream Hollywood film" that "is for Western audiences."
"I am thrilled to be here in India," Metcalfe told reporters. "I never had a chance to see Hindi films and I am looking forward to that experience. I am feeling elated. I am going to romance two Indian heroines."
Tara Sharma [Images], who also features in the movie, quickly interrupted: "Excuse me! I am not his love interest."
She then joked with Metcalfe: "Don't be under the illusion that you will be romancing me!"
Text: Syed Firdaus Ashraf | Photograph: Pradeep Bandekar