Advertisement
October 16, 2007 13:37 IST
Last Updated: October 16, 2007 15:09 IST


The setting was changed. South India became North India. Carnatic music became Hindustani. Bharat Natyam turned into Kathak. Manichitrathazhu became Bhool Bhulaiyaa.

Rated as one of the best-ever Malayalam movies, the Fazil-directed Manichitrathazhu holds the unique distinction of being remade in four languages (Kannada, Tamil, Telugu and now Hindi) and becoming hits in every language. If initial reports are anything to go by, Priyadarshan's [Images] Bhool Bhulaiyaa is all set to become a money-spinner, critics be damned.

But what was missing in the remakes, including Bhool Bhulaiyaa, was the original's class: lucid narration (Fazil), well-knit screenplay (Madhu Muttam), captivating music (M G Radhakrishnan and Johnson's background score) and top-class acting (Shobhana and Mohanlal). In fact, the music was almost like a character in Manichitrathazhu, where rare and powerful ragas were used.

Agrees director Priyadarshan: "Yes, that must be true. Those (read Malayalees) who have seen the original will think so. But outside of Kerala [Images], no one has seen it. Others are very impressed by the film. The film has opened to a 95 per cent collection. This will be the biggest hit in Bollywood this year."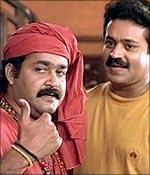 That may be a too tall a claim, yet Bhool Bhulaiyaa is a brave attempt. It could easily be Priyadarshan's most challenging and best remake, along with Viraasat (Thevar Magan). Most of his remakes have lost the plot when he tried to deviate from the original. 
In Bhool Bhulaiyaa, the master remaker has stuck to the script.
"Yes, that is for sure. I am loyal to the script. I did not see anything worthwhile to incorporate from other versions," Priyadarshan told this writer when he began remaking what he calls his "toughest remake" yet.
Apparently, he was referring to the Rajinikanth-starrer Tamil version, Chandramukhi.
Though Chandramukhi was one of the biggest-ever hits in Tamil, thanks to Rajinikanth, it never had a modicum of the class the original had. The script was altered; the narration twisted.
But then, Chandramukhi was never meant to be a class film. And its director P Vasu certified this.
"Yes, my version is different. I agree Manichitrathazhu is a class film. But I have a different audience in my mind. I did not want to make a classic. I made changes that suit my style of filmmaking," P Vasu told this writer just days before Chandramukhi's release even as he was embroiled in a copyright controversy.
Far away from the hullabaloo lives Fazil, the original director, in Kerala's backwater district Alappuzha.
After repeated attempts, a reluctant Fazil spoke to rediff.com about the remakes, but refused to draw comparisons. Though he waxed eloquent about the making of the original and its cast, he stopped short of criticising Chandramukhi. Perhaps not wanting to ruffle the feathers of his close friend Priyadarshan, he said he did not see Bhool Bhulaiyaa.
Fazil quickly added, "If Priyan has followed the real script, then it will produce good results. I can't comment about the film without watching it.
"Chandramukhi was deviated so much from the original," he added. "The story was altered to make way for stars. There the star was the key. In my film, the script was."
But being the creator, was he happy? ''It is not the case of being happy or unhappy. That suits a different style. And it is a big hit. That means people have accepted it. Having said that, I would not have made such an attempt."
Could Fazil have remade the Tamil and Telugu versions? (Fazil has a number of hits to his name in Tamil, including Malayalam remake of Aniyathipravu).
"I could have. In fact, I got so many offers from Tamil and Telugu to remake. But I was not ready to change the script. In Malayalam, the character played by Shobahana was shown enacting Bharatanatyam and occasionally speaking Tamil. I can't change it the other way. If the story happens in Tamil Nadu, I can't have a Bharatanatyam danseuse coming to Tamil Nadu from Kerala. It would have been comical."
Yet, Fazil says, the story is universal in nature. "Such a story can happen in any household anytime anywhere,'' he says, sounding like a proud 'father'.
Which is why Priyadarshan, who assisted Fazil in the original version, has plucked the seed of Manichitrathazhu from Kerala and planted in Rajasthan.
And Priyadarshan is reaping the remake harvest.
"I knew the story would work. I was part of the original film. Ever since I wanted to remake this in Hindi. This was the toughest remake I have ever done."
What excites him the most is the reaction from Kerala, his home state.
"I never thought Kerala would accept a remake of Manichithrathazhu. But I was told that it is doing very well. That is a big surprise to me," says Priyadarshan.
Was it because of the curiosity factor? "No," affirms the director. That may be a small factor. The original was released in 1993. A generation has not seen it. There are new audiences as well."
That is again a tall claim, considering the number of times Manichitrathazhu was telecast on TV. In fact, TRP ratings are reportedly huge when each time the film is aired.
Gains apart, what was missing in Bhool Bhulaiyya is the top-class performance of its lead actors and the charm of the script.
For example: the crucial scene at a temple, where Shobhana argues with Mohanalal. In fact, that was where the psychiatrist character played out by Mohanlal confirms Shobhana's Multiple Personality Disorder. Such was the expressiveness in her eyes that the glimpses of the disease were conveyed in that single shot. In Bhool Bhulaiyya, Vidya Balan [Images] blinks. Again, Mohanlal's body language and dubbing (voicing) completely transform into a different level in the sequences where he reveals a concatenation of events. Akshay Kumar [Images] comes a cropper here.
In the shadows of the archlights, lives the original's writer, Madhu Muttam, almost in obscurity. Seldom has a script-writer of such a blockbuster has been sidelined in Malayalam. Such was the neglect that rediff.com could not even trace his number from the Malayalam film fraternity.
Leave alone monetary benefits, none of the directors had the courtesy to even inform Muttam about their remake plans.
With hurt brimming in voice, Muttam said, "Nobody even called up and asked my permission. They did not even inform me. I felt humiliated. Leave alone the money factor. That is the way writers have been treated. It is not just about me. It is about writers and their rights." Muttam says the Tamil version has not even given the credit to him in the title.   
Back to Bhool Bhulaiyaa, if anywhere the film is bettered, it was on the technical side. Sabu Cyril's world-class art direction and Thiru's captivating cinematography made Bhool Bhulaiyaa a visual treat.
Priyadarshan agrees gleefully, "In Malayalam, we did not have the budget to shoot in such grandeur. In Hindi, we had. I could use all possible technical advantages the film needed. The style in Hindi is better."
Yet, shorn of big budget, technical splendour and dazzling locales, Manichitrathazhu out shines all the remade versions. The script is the key word, not the scrip.