Home > Movies > Reviews

Laaga Chunari Se Bhaag

Raja Sen | October 12, 2007 17:42 IST


| | |
| --- | --- |
| Rani Mukerji and Konkona Sen Sharma | |
| | |
| | |
| | |
| | |
| | |
| | |
Ah, so few films are fun anymore. I saw one where the ensemble cast was spot-on, with some standout performances, the script clever enough to evoke authentic laughs -- a genuine rarity in Indian cinema today, sadly -- and, while some of the plot was stuck in been-there-done-that predictability, there were a couple of sparkling moments of true wit.
Oh, how I wish I could keep writing about Loins Of Punjab Presents. Unfortunately, after sitting through a half-full theatre on opening day (my regular ticket-blacker laughed, pointing me to the opening counter minutes before the first show) for Pradeep Sarkar's Laaga Chunari Mein Daag, I'm forced to agree that movie too merits a review. And you certainly deserve a warning.
When big-budget filmmakers try to go all junta, and try to tailor their multiplex-honed sensibilities towards a 'mass market,' trouble is inevitable. Smug in the thought that the heartland needs old-school, they merrily churn a shinily-wrapped packet of something unforgivably, frighteningly regressive. Laaga, ladies and gents, is this year's Vivah [Images].
It's as if a music label with a catchy song signed on Subhash Ghai [Images] and Sooraj Barjatya to co-create a melodramatic weepfest, and two decades after they made the movie, handed it to a Balaji Telefilms [Get Quote] editor, briefing him to trim all the happy bits to a minimum. Imagine Ram Lakhan minus Anil Kapoor [Images], Madhuri Dixit [Images] and Jackie Shroff [Images]. Oh, and Gulshan Grover [Images].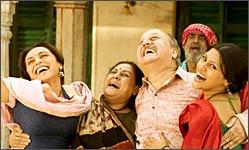 That's what we have in Laaga, a dispirited take on Mumtaz-starrer Aaina, with a mother sitting in a mammoth haveli and stitching petticoats while the father, given to deathbed-dwelling, coughs ominously in the background.
And they're super self-centered. With parents like these, who needs enemies? Those, however, are around too, a villanous former-junkie uncle with obvious designs on the haveli, and his son, a mustachioed lout with the gall to sing non-Yash Raj songs. Oh, the horror. And so while mother sobs and sews, and father fumes futilely at clerks, neither of these former-rich now penniless peasants even envision giving a room or two for rent, or even giving in to the creepy uncle's demands. Nonsense, they have pride.
This, of course, is why the elder daughter goes to the city -- ooh, big bad Mumbai's never looked quite this lecherous this quickly -- and becomes a call-girl. Come off it, you knew this from the promos. And so it is that Rani Mukerji [Images] becomes the pride-less joy of the family, sending in bushelfuls via her unbelievably lucrative livelihood. 'You wanted a son, daddy? I'm a disappointment, daddy? Well, a son wouldn't have been able to do this, would he? Well, not unless he was in Bangkok, anyway.'
Don't be misled by the warm Hum To Aise Hain Bhaiyya opening song, there is no other merriment in this film. Rani is hardly allowed to flash that smile -- the one that usually works despite the film around it -- as she weeps copious tears and calls herself Natasha, after combating off sleazy call-centre bosses, the kind who keeps 30k in banknotes in his desk drawer.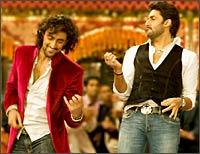 Also crying -- possibly for starring in this film -- is Jaya Bachchan, here playing an absurdly caricatured Rakhee role, skewed to make it entirely unlikeable. I'm stunned she didn't hysterically cry 'meri betiyaan aayengi!' or lose her eyesight like Nirupa Roy in Mard.
Konkona Sen Sharma [Images] is good, but that's simply because she's a fine actress, told to act irrepressible. And so she thankfully bursts onto the screen and lifts the gloom away, proving to be much-needed respite between long sections aiming singularly at your tissue-box. Koko's character and dialogues are also badly written, especially when she's in conversation with one of the other women, but she's natural enough to make it a likeable character. No small ask, this.
The men are hardly there in the film, and surely they're all glad. Anupam Kher [Images] hams it up as an ailing old man (isn't that why he's unemployed in the first place?) who turns remarkably chipper at the end. Kunal Kapoor [Images] spills mayonnaise on his shirt, kisses Konkona and has a couple of songs, grinning happily at being in such a big-budget movie, and Abhishek Bachchan [Images] goes through virtually the same motions (a cameo, either way you look at it), feeling intense samosa cravings within one day of leaving Mumbai, and minus the Rani-kiss. Having Ma on the sets must be hard.
Stereotypes wheel around the film at every turn, the first half working like a lavish, long soap episode (I doubt Ektaa Kapoor would bankroll such a hackneyed project, though) while the second, momentarily salvaged by Konkona's brightness, rushes hurriedly towards an ending so dreadfully convenient. Ah, we meet again, Pradeep Deus Ex Machina Sarkar.
Laaga is a painful film, trying to feel socially relevant but eventually turning a very simplistic eye towards an immensely serious basic issue. And for a director like Sarkar, fine with detailing and arranging his milieu, there are too many fundamental flaws, especially with the script.
At a point when the film actually comes to a head -- when Konkona is finally about to learn about her sister's Natashaism -- there is the desperate need for sharp, well-handled dialogue, for subtlety. What we get is a conversation between her and a hotel executive drowned out by muzak. It's a film too lazy to even try, and would rather focus on another tiresome song sequence.
Laaga Chunari Mein Daag takes us back to a kind of cinema we thought we were done with. Indian cinema threw off the dupatta just a little while ago; let's not shackle it back down.
Rediff Rating:

Want to see this movie? Check out Rediff Movie Tickets!