Home > Movies > Interviews

The Rediff Interview

'I have sung a few lines in Laaga'

October 10, 2007



He entertained us with the typical Bambiya songs (Aane Charane and Samjho Hohi Gaya in Lagey Raho Munnabhai [Images]) as well as sweet and melodious ones in Parineeta [Images].

Meet Swanand Kirkire, the versatile lyricist as he talks to Patcy N about his forthcoming film Laaga Chunari Mein Daag starring Rani Mukherji, Abhishek Bachchan [Images], Konkana Sen Sharma [Images] and Kunal Kapoor [Images].

After the song Samjho Ho Hi Gaya what sort of response did you get?

Overwhelming! I got a lot of work after that song, though I can't take up all of them. 

Your last movie lyrics for Lagey Raho Munnabhai were totally Bambaiya. What about Laaga?

It is my job to provide whatever the story demands. For me it was difficult to work for Bambaiya lyrics and then switch to Benarasi lyrics as I belong to North India. Though I am a Maharashtrian who speaks Marathi, I hail from Indore in Madhya Pradesh. Plus I completed my National School Of Drama and graduation from Delhi. So penning Bambaiya lyrics posed a challenge.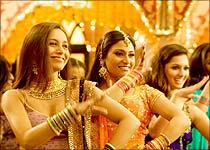 There are all together eight tracks. Have you done all the lyrics for the movie?
Yes, I have done all the lyrics.
What is the difference when you make a song for an album and a film?
Songs for a film should linger in the listener's mind. I mean the listener should know that the song is from so and so film. So, when composing for films, the songs and lyrics should be poetic to the ear. It should be enjoyable so that you can hum along.
How do these poetic words come to you?
I love writing poetry and have read quite a lot too. I'm so in love with Benaras that I wrote a song seven pages! It was trimmed down to one and half page in the end.
Which was the toughest song for you to write?
I had a hard time writing the Babul Supriyo song Zara Gungunalein Chalo. It is the simplest song to write but was most difficult for me because I could not achieve that simplicity.
Normally to write one song how much time do you take?
It depends. Sometimes you crack it there and then and sometime it takes five to six days.
Was there any time when you were given the music and asked to write according to it?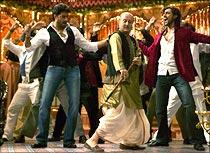 I was given the music first for all the songs except Hum Toh Aise Hai Bhiaya.
How do you work on the said music?
It becomes difficult if the music is given first. In Indian film industry this has been the tradition. It's easy for me because I know music. I have sung a few lines in Hum Toh Aise Hai Bhaiya too.
You are very new to industry and then there are stalwarts like Javed Akhtar. Any competition?
No, not at all because there are at least 500 films that are made in a year and with more than two thousand cameramen and 20,000 editors. But how many lyricists are there? Not more then eight, so we need more lyricists.
What next?
I am working on Vidhu Vinod Chopra's Talisman for which I am writing the screenplay, dialogue as well as lyrics. There is also this animation film on Krishna made by ISCKON Bangalore. Another project is Shyam Benegal's [Images] Mahadev.