Home > Movies > Interviews

The Rediff Interview

'Thamizh MA will be a sensation'

October 08, 2007



Thamizh MA, now renamed Katrathu Thamizh came out of nowhere to become the most anticipated film. And one of the features that caught the attention of the people was Jeeva's (the hero) rugged looks.

Another curiosity factor was director Ram, who is Balu Mahendra's assistant. But above all this, it is the storyline itself that is interesting -- a young man with a post graduate degree in Tamil wandering around in search of a job!

Debutant director Ram talks to Shobha Warrier about his film and his foray into the world of films from the world of literature.

Your first title Thamizh MA was quite interesting. The post graduate in Tamil, the Thamizh MA of your film is unsuccessful in getting a job. Was there any person who inspired you to make such a film?

 Actually, the story is not about one person but about a whole community of Arts and Humanities students. Though the protagonist of my film is a Thamizh MA holder, the fate of all arts and humanities students is the same.

Those who have degrees in arts and humanities are not treated on par with the science graduates and professionally qualified students.

I am also a post graduate degree holder in Thamizh literature. I studied in Thamizh medium schools, and I come from a lower middle class background. Since I played tennis, I had the opportunity to move with those belonging to the upper class. So, I have noticed the difference in the life styles of both the classes. Everything from their approach to life to their romantic life to the emotional quotient is different from that of a guy from a lower class background.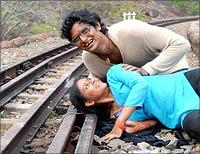 This movie looks at the point of a view of a guy from the lower middle class.
Is it autobiographical?
No, it is not autobiographical. Though I studied Thamizh, I went on to work as a media consultant. The film is not about my life or the economical problems I had in my life. I strongly feel you can do some work and earn money in India.
But I made the film in the form of the autobiography of the protagonist; his name is Prabhakar.
Did you create Prabhakar based on any particular person you know?
No, Prabhakar is the sum total of many people I know.
You worked as an assistant to Balu Mahendra who is considered an institution in filmmaking. What did you learn from him?
He converted me from being a film maniac to a film student. He made me understand the difference between the two. He told me that a film maniac is mad about films but a film student learns about films. A film student does not just appreciate films but also appreciates the techniques involved in filmmaking. When I worked with him, I was learning not only the art of filmmaking but also cinematography as Balu Mahendra is an ace cinematographer.
He also has a strong background of literature, and is well versed in Thamizh literature.
He is more than 60 years old and has met the greatest filmmakers of India like Satyajit Ray. Manoj Night Shyamalan asked him to be the cinematographer of his first film. It was only when he declined that the offer went to Madhu Ambat. So, I was learning a lot from the vast experiences he had in the field. He is such a good teacher that he doesn't make you feel he is teaching.
How did you become his assistant?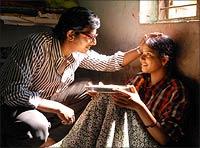 I was planning to make a cross-over English film on man-woman relationship, and I wanted a cinematographer whose style suits my script. So, I went to Balu Mahendra and asked him to do cinematography of my film. After listening to my script, he agreed to do my film but the project did not take off.
Though I have not assisted in him in any of his films, I call myself his assistant and student, and he is my teacher.
You were a literature student. How did the transition from the world of words to the world of visuals come about?
It is very simple. Literature is one form of creativity and cinema is another. I feel filmmaking is a very powerful creative medium today. As I was basically into serious literature stuff, I started writing short stories and then scripts for films. My foray into films started as a script writer in Hindi.
I have written scripts for Raj Kumar Santoshi. Lajja is the script based on my short story. Then, I worked on two scripts for him. In fact, even now, I am working on a script for him.
Raj Kumar Santoshi is the one who took me to Hindi films, though I don't know Hindi at all.
So, from the world of words as a writer, I became a script writer for Govind Nihalani first and then Raj Kumar Santoshi. From Govind Nihalani, I learnt a lot about scripting and also filmmaking. So, these two people helped me a lot in me becoming a filmmaker now.
How did you meet Raj Kumar Santoshi?
I was doing my MA at the Madras Christian College when I went to meet Thankar Bachan who is also a writer in Thamizh. I was also writing short stories then. I worked with him in a couple of his films.
One day he asked me to go to A R Rahman's studio. A huge man was also waiting there.  He started talking to me and introduced himself as Raj Kumar Santoshi. After we talked a lot about films, he asked me to meet him at the Taj Coromandel and be his script writer. As I had no knowledge of Hindi films, I didn't know who Raj Kumar Santoshi was. So, I didn't go to meet him.
When he complained to Thankar Bachan that I didn't meet him, I went to the Taj on my cycle. For the first time in my life, I stepped into a five star hotel.
After two days, he took me to Bombay and introduced me as a script writer to everyone. Thus I became a script writer!
You are a short story writer in Thamizh, a literary personality. Why do you think in Thamizh, films are not made based on literary works, unlike in Malayalam?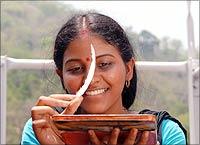 You are right, unlike in Malayalam where literary personalities like M T Vasudevan Nair are connected to films, it is not so in the case of Tamil films. Except for the Jnanapith Award winner, Jayakanthan, not many writers have made a foray into films. He also won a national award for his film.
Thankar Bachan's Azhagi was based on one of his own short stories. His latest Onpathu roopa note is also based on his own novel.
Then, modern Thamizh literature is not realistic; it is magic realistic or surrealistic.  Writers don't become filmmakers here.
In Tamil film industry, we don't make films; we make products.
How do you describe your film? Is it a film or a product?
I don't know whether it is a film or not. To me, it is a creative piece. I have not compromised anywhere. I made it the way I felt I should. I possess this film, and I love it. So, I can't judge it.  
Many filmmakers say they compromise on creativity because they are pressurised by those who invest money. Did you also have to withstand such pressures?
I had to spend a lot of my energy to convince my producer and I convinced him. I had to not only convince the producer but every single person associated with the film. They could not understand why I was doing something in the way I did it. So, for every shot, I had to do a lot of explaining. 
Does commercial success matter to you?
Of course, it matters. I am making the film for people and I want them to see it.
Were you unhappy when you had to change the title of the movie from Thamizh MA to Katrathu Thmaizh?
I am not unhappy. I needed only a name. From 'Thamizh MA', it has become 'I learn Thamizh.'   
Are you bothered about how people will react to your film?
I know it will be a sensation. People will either talk for it or against it. Some will scold me while some others will appreciate it. But I can't go to a theatre and see my film again. I have seen it so many times that I am bored with it. I am very confident because my film has soul. I speak the truth and I have spoken it with honesty.