| | |
| --- | --- |
| Anil Mehta | |
| | |
| | |
| | |
| | |
| | |
| | |
Advertisement
November 28, 2007


It isn't often in today's Bollywood that you mean a silver-haired debutant director. It's even rarer for a man making his first film to be responsible for one of the year's most hyped events, The Comeback Of Madhuri Dixit.

However, that debutant tag is a mere technicality, for Anil Mehta has been around for a while, responsible for movies like Lagaan [Images], Hum Dil De Chuke Sanam and Kabhi Alvida Na Kehna.

With Aaja Nachle the cinematographer turns director, and it's a transition he seems quite at ease with.

As with several of the Bollywood lot, his innings began at the FTII in Pune. "I went to Film School in Pune, for about 3-4 years," Mehta says of his beginnings. "I did my specialisation in cinematography. And then, as all the stories go, all the film roads led to Bombay, where I had to start my life from scratch."

Mehta spent a long time in advertising, and took about 5-6 years to gain some stability, in the early 90s. "Well, it is always a struggle," he laughs, "but I didn't have any so-called romantic nights sleeping on the platform. But yeah, one is forever short of cash, borrowing hundred bucks from friends..."

His first cinematic opportunity came with Mani Kaul's 1994 short, Cloud Door. "Cloud Door was a very interesting short. Mani is fun to work with.  He's very inventive, and his approach to narrative cinema is not very conventional." Despite a unique short, however, Anil fell back on advertising. Bollywood at that time wasn't as professional as it is today, and he found consistence in advertising.

In a way, he says, it was "bad timing" when a man called Sanjay Leela Bhansali [Images] called him up, just when his life was on track. "I had just about gotten comfortable when Sanjay approached me for Khamoshi. He left the script with me and said he had found himself a financier, that he was going to make this film. 'See if you want to do it,' he told me. The very next day I called him up and decided to do it."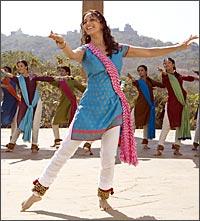 The decision was instant. "It wasn't a very mainstream kind of film. Sanjay believed in the film, and I instinctively felt it was a good script." Khamoshi remains special to Mehta, to this day. "It's still a very precious film. Everything in terms of budgets and production was stretched and things were tight, but we still managed to give things an identity."
After Khamoshi, Mehta returned to the stability of advertising. "When the film doesn't work commercially, you clearly don't get much acceptance in that area. Khamoshi opened up a lot of avenues for Sanjay, but it wasn't as if I was in great demand. I wasn't looking for feature films, but then Sanjay brought along his next script."
And when it rains it pours. "I met Ashutosh [Gowariker] and Aamir [Khan] long before Hum Dil was released. I think we were still in post-production when Aamir asked me to read the script and speak to Ashu. With Aamir, I got a sense of how he wanted to shoot the film. It was clear that this would be strikingly different from the kind of films being made at the time. Also, with Aamir as a producer, I could sense a commitment to the film. Back then things were not as professional as they are now, but Aamir knew what he was talking about, and that gives you confidence.
Hum Dil De Chuke Sanam marked Bhansali's embrace of the spectacular, giving the cinematographer a much more vivid palette to play with. "It is visually more expansive but that doesn't mean a film like Khamoshi is less intensive or satisfying. Every film has its own idiom. Lagaan has a very limited colour palette," Mehta says, referring to the earthy tones of the film. "But it had a distinct style, and remains an incredibly special film."
While he's been choosy, he admits to doing what he candidly terms as 'predictable glossies,' but is adamant they weren't conceived that way. "When Kal Ho Na Ho started, Nikhil came up to me with the script, but wanted to take a different approach: To shoot in New York but in a middle-class milieu, to try and capture the Indian community life in places like Jackson Heights, etc. That's how we started work on the film, but it ended up rather differently. Nikhil, Sharmishtha [Roy] and I used to scout locations and try and avoid K3G territory. Houses, interiors were made but they were not lavish havelis."
Still, he accepts the film's unreal opulence. "Once you are working on a film like that, you have to strive for that kind of polish. You shouldn't work against the film. With Karan's [Johar] films, you soon understand what he is trying to make. I used to take my cues from the way he would dress his characters, because he does that with extreme detail. It's all very well to call Preity's [Images] character middle-class and say nobody goes to their deli, but it is when you look at the boots she's wearing that you realise the look of the film, the film's style."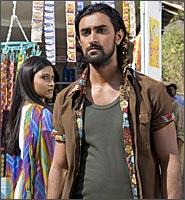 Kabhi Alvida Naa Kehna [Images] was another Mehta-Johar collaboration. "It was definitely a very lushly mounted production, but I liked the narrative about the breakup of a relationship. That's what we used to give the look texture and tonality. So we shot in the cold months of New York, and gave the film a cold visual treatment: there's a lot of blue in the back, and people in deep jackets and coats. It was interesting developing a palette like that."
Yash Chopra's [Images] Veer-Zaara, of course, was a predictable glossy from the word go. "From the very first set, you knew what the look of the film would be. The first day of the shoot, we shot in the interior of Zaara's room in Pakistan. She goes into the shower, and the bathtub is full of rose petals. There are candles around her. So the treatment of the film followed from there."
So after all this shooting, how come his directorial debut features Don cinematographer Mohanan behind the camera? Mehta laughs. "I believe a director and a cameraman should not be the same person. I feel film is all about collaborative effort and spirit." There are several directors who over-direct the cameraperson, and Mehta agrees. "The 'trying to control' syndrome is seen a lot on film sets," he chuckles after sharing a delightfully unprintable theory for the same. "I think the cinematographer needs to come in and contribute to the director's work. I consciously work towards Mohanan coming in and helping me with the scene. Even with blocking the scene. He has brought great value to the film."
Sure, there are wars. There have been occasions when cinematographer and cinematographer-director have battled on sets, but it's been even. "Mohanan's told me to shut up and go home, and vice versa," says Mehta, mentioning how easy it is to hide behind the camera. "This other way is the challenge. It's very unnerving to expose yourself and direct."
"Nothing, nothing prepares you for it," Mehta says about stepping into direction. "It takes a huge toll. And you never know if you are getting it right." Plus, this is a big movie, for a million reasons. The pressure must be huge. "There is a lot of it, definitely. Constantly there is an undertow of mounting expectations," he admits. "On the flipside, the bunch of people you are working with give you their constant support. With Yash Raj Films, you know simple things like logistics are completely taken care of. And that they are supporting you in a big way."
"I love the fact that Jaideep [Sahni, writer] is just a phone call away, and we share similar sensibilities. And that actors never once feel they are not being looked after. It was a very enjoyable everyday experience. People who didn't have to shoot that day would just come to the sets and hang, and the rest would keep asking when we were shooting next. Who looks forward to going on a hot set?"
It was, in a way, scary. "There was never a feeling that something could go wrong. It always felt like we had too much of a good thing going."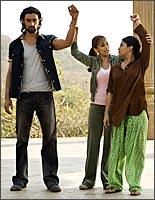 And then there's Madhuri Dixit. "She was anything but affected. She was really simple in her interactions with everyone. Her co-actors weren't really from her era, and it is a slightly changed film environment: Four months, one single schedule, everything happening on time. And she adjusted to it incredibly well. She has a lot of poise."
The story, he says, is very simple, straight and light. "Yet it has relevance to the kind of cities and towns we live in today. A young girl in the fictional village of Shamli learns to dance at the Ajanta theatre. For various reasons, she grows up and leaves. When the film opens, we pick her up in New York as a choreographer. She gets a phone call after 11 years, saying her guru is dying. She takes the next flight back and lands in Shamli to find that the theatre is completely decayed. Not just that, but local authorities want to demolish it and put up a commercial complex. So she decides to fight back. There's her challenge, revitalising the town."
There is a deeper issue to it all. "It is about the fact that all our cultural, community spaces are vanishing. What are they being replaced by, shopping malls? Definitely some amount of rethinking is required. People are congregating on flyovers, taking a walk on them! These are signs that these [cultural] spaces in cities are in real short supply. Their problem also is that they are not part of the numbers, they aren't contributing to the GDP. So how do we address these intangible needs? How do we accord them their rightful importance?"
The cast is an interesting one, and Mehta is glad. "I was very lucky with the casting. I got all the people on my first list, with slight shuffles here or there. I can look back and be thankful, because it was amazing how they all came on board. They are all competent and professional actors," he says.
"It is a lighthearted, entertaining film, but not an outright comedy," he says when trying to nutshell Aaja Nachle into a genre. "I would also like to say that people should not go into the movie thinking that it's all about the song and dance, just because of the name." He goes on to say that the songs and dances in the film are quite situational, almost like a musical.
So finally, one week before it hits theatres, is Anil Mehta satisfied with his first film? Mehta smiles. "I am of the belief that at every stage of a film, it goes through a transformation. As we master the sound, the film changes, we process the colours, the film changes. And these changes are still going on. And I think that when the audience finally sees the film, it gets a life of its own."
Needless to say, Mehta can't wait. Neither can Madhuri-fans.