| | |
| --- | --- |
| Arshad Warsi, John Abraham in Dhan Dhana Dhan Goal | |
| | |
| | |
| | |
| | |
| | |
| | |
Advertisement
November 23, 2007 14:19 IST


Remember when Saif Ali Khan [Images] played the guitar for Parikrama? It was a nice gimmick, with Saif doing just about okay but backed up by a solid rock act, and everyone more pleasantly amused than impressed. Except for giggly Saif-groupies, who went into obvious paroxysms of oh-he-can-do-this-too joy.

 

Similarly -- since apparently every actor's extracurricular talents must be lauded -- John Abraham [Images] can juggle a football well. Which is why a couple of scenes in his latest film, Dhan Dhana Dhan Goal, are watchable: they're standard-issue Pepsi-advertisement style shots, with John and a bunch of talented kids playing stunt soccer while calling each other by legendary nicknames. Clap, clap.

 

Outside of that, however, this film is a complete and utter drag, and a case in point against thoughtless derivative sports films, a trend threatening to grow following the success of fine films like Chak De! India and Iqbal.

 

And when I say devoid of thought, I don't mean a harebrained cliche-parade (okay, that too) but Dhan Dhana Dhan Goal is a very callous film, one that raises an extremely bizarre perception of anti-Asian racism in the UK. While the concept of Aston Villa not playing their top striker simply because of 'colour' might have been plausible in the 1950s, today's Britain is one of extreme diversity, where Sahas and Ronaldinhos are heralded just as much as Rooneys.

 

In sport, it's doubly so. I remember signing up for cricket sessions at University and -- while I'm no S Ramesh T -- the English lads, gleeful at an Indian joining, scribbled my name optimistically in the first-string sheet. English sport positively thrives on getting the best from all over the globe. Outside of Lewis Hamilton, the UK hasn't had a homegrown world-class hero in years, but this doesn't stop them from picking top players and making them their own.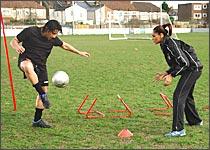 Is the film a rip-off? The question is inevitable, the answer even more so. Sure, every sports movie is. But here director Vivek Agnihotri -- who last massacred The Usual Suspects to make his Chocolate -- while picking significant plot-points from the decidedly middling Goal, even riffs off bits from the completely undeveloped desi sports genre, with moments from the aforementioned Chak De (SRK's [Images] speech is reproduced near-verbatim) and Iqbal. There's even a wet Dhoom 2 [Images] moment, if you so wish to call it.
This is a how-do-you-count-the-ways kind of bad film. The dubbing is hideous, with characters often appearing more adept at ventriloquism than soccer, not moving their lips -- as a result, you don't know who's saying what; not that it matters much.
The 'ensemble' cast isn't one to speak of, with less than a half-dozen players getting speaking parts, while the rest of the team skulks around anonymously in the back of the badly-painted bus. The ones who do get to talk are severely underwritten -- save for Raj Zutshi's garrulous Sikh, who aces a few one-liners -- but this is clearly not a team you can care about.
For one, they aren't British. This dogged Southall United Football Club is supposed to be a band cobbled out of Brick Lane butchers and Southall softies, and while we're told these kids were born and bred there, it doesn't seem ruddy likely, with not one of them even trying to attempt an accent. Instead, they speak in Bombay-Hindi, their eyes opening wide as they look at a bunch of big banknotes with the Queen's head on them. "Pounds," they say with awe, one awestruck footballer after another, giving you enough time to roll your eyes between players. That is, of course, when they aren't being pissy drunks.
And then there are the pained subplots. Boman Irani -- who acts very well indeed, simply because it's hard for him to do otherwise -- frowns in the middle (presumably for being in this film) of these inane morons, penance for once having Geoffrey-Boycotted (read: vanished and ditched) his team during their potentially finest hour.
Arshad Warsi [Images], an irritable Pakistani diner-walla, is also required to glare balefully and pretend to be focused, while his wife goes from pregnancy test to baby in the course of what must be football's longest-running tournament.
John Abraham plays bratty super-striker Sunny, looking out for himself, free of all kinship towards Southall, or India, for that matter. It seems justifiable, him having lived in the UK all his life. Yet there is a strain of unexplored jingoism through the film -- imagine a cricket film with Monty Panesar getting dirty looks at the local Gurudwara -- and his actions are given some bizarre psycho-babble roots in his father's past. Honestly, years of familial strife could have been avoided had Daddy told Sunny about his past, instead of waiting for well-timed happenstance.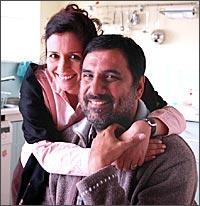 Bipasha Basu [Images] -- in absolutely the single most moronic role of her career -- plays Warsi's sister, an incompetent physiotherapist who applies lotion on the nostrils of a man with a smashed septum. Of course, this could be because the bimbette is utterly smitten with Sunny, and makes use of these extreme close-up shots to tell him she cares because she's a doctor. And, um, that she's 'bahut sexy.' No kidding. She follows this up with, 'you're pretty sexy yourself,' in staccato Hindi, and giggles.
I could go on and on -- a la this most predictable of movies -- but I'm hoping you get the idea by now. While the matches are competently shot, the football itself is unspectacular -- save for a neat panoramic shot introducing us to the Manchester United grounds -- and the matches bore, simply because the team doesn't grab your interest. If there is one scene in this whole film you find unpredictable -- save for John Abraham driving his Porsche down the wrong side of the road and resultantly getting zero traffic -- tell me. I liked the 'Pammi's Hair Salon' sponsorship gag, sure, but this was ditched sooner than you could spell R-e-e-b-o-k.
In the mood for soccer? Switch on Man-U TV or Futbol Mundial. For a sports film? I hear the Chak De DVD is fun. For John? Dhoom, No Smoking, Karam -- take your pick.
Just chuck this Goal. It's infuriatingly ironic for a soccer film to be this lame.
Rediff Rating: