November 13, 2007 13:52 IST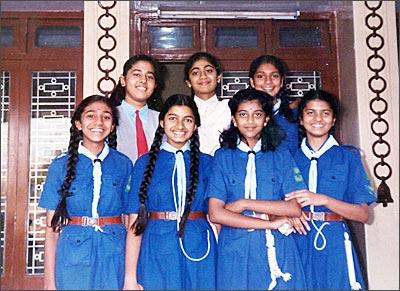 We asked readers to tell us if they had grown up or studied with movie or television celebrities. And we got a great response!
Sharing her experiences is Prerna Salla, who went to the same school as Shilpa Shetty [Images].
Shilpa was a giggly go-getter in school, St Anthony's Girls High School, Chembur (a Mumbai suburb). There were rumours that she was very popular with the boys!
An avid volleyball fanatic, she was a great player as well. She was this gawky teenager who suddenly shot up to a good height during Class 9.
A classical dancer and a distinction holder at studies, Shilpa loved to poke fun and bully people around. She would create the silliest games during free periods in school.
She appreciated poetry; she still writes poetry. She loved gossip too. She also loved flaunting her stuff; whether it were clothes or simply her sometimes irritating sense of humour. She loved to be the centre of attention.
She attended Poddar College, Mumbai, just before her tryst with ad films and Bollywood.
In the picture: Reader Prerna (top, left) grins next to Shilpa.
Grew up with a star in the same neighbourhood? Studied with them in school? Had a star friend in college? Hung out at the canteen together? Bunked classes? Maybe even hit on the same pretty people?
What were they like? What did you think of them then? Did you ever foresee their success?
We look forward to hearing from you!
Don't Miss: Stars Readers Studied With