OSO has an edge over Saawariya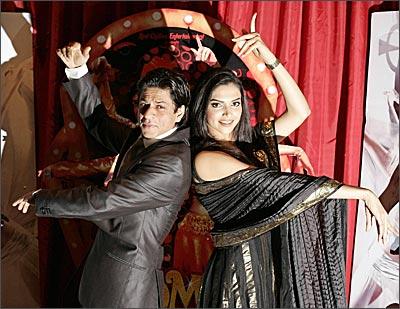 Shah Rukh Khan was right when he said 'Diwali is all mine'.
His film Om Shanti Om opened to packed houses on Friday along with the other big release, Saawariya this Diwali.
But while both films opened well on account of advanced bookings, (Saawariya [Images] opened well in advance as Om Shanti Om's distributors were negotiating the release of the film with multiplexes for a better price) the reports of Sanjay Leela Bhansali's [Images] Saawariya are not very encouraging.
Komal Nahta, a film trade analyst says, "Om Shanti Om has got an extraordinary opening and while Saawariya's opening is good too but the reports are bad."
Adds Vishal Anand, Vice President (Marketing), Fun Republic, "Om Shanti Om has an edge over Saawariya this weekend but Saawariya too has opened up well."
Therefore, bad reports do not mean Saawariya will not make money.
Says Vinod Mirani, film trade analyst, "Festival season is benefiting both the films, but eventually the better will sustain and Om Shanti Om is a better bet and mass appealing."
Sony has released 1034 prints worldwide for Saawariya out of which 754 are released in India and 280 are abroad.
Sony Pictures, Head of Publicity, Vikramjit Roy says, "This is a bumper Diwali for our films. Why are we not celebrating this fact? Why are we saying who is against whom at the box office?"
He further says, "I have reports with me that Saawariya has opened to full houses from Ernakulam to Jammu, or say, Gujarat for that matter, or even central India places like Madhya Pradesh."
"It is a record of sorts for two newcomers to get this big an opening at the box office. This has created a new benchmark and we are getting warm, positive reaction," added Roy.
However, the discouraging reviews the film is getting may result in losses later on, say trade analysts, and will eventually not rake in big moolah.
One of them, Taran Adarsh says, "Saawariya is overall disappointing in terms of content as well as business."
He further adds, "On the whole, Saawariya lacks soul. It is Bhansali's weakest film to date, in terms of writing. The cracks will start showing first at single screens and later at the big centres."
And whether this may happen, only the coming weeks will tell.
In the picture: Shah Rukh Khan [Images] and Deepika Padukone [Images] strike a pose at the London [Images] premiere of Om Shanti Om.
Photograph: Shaun Curry (Getty Images)