| | |
| --- | --- |
| Sonam Kapoor in Saawariya | |
| | |
| | |
| | |
| | |
| | |
| | |
Advertisement
November 08, 2007 15:31 IST


First off, using the ever-fantastic words of Pete Townshend entirely out of context, The Kids Are Alright.

No, Ranbir and Sonam Kapoor -- megahyped bachchas sharing a surname but entirely different Bollywood legacies -- aren't, as the hype might have had you believe, the instant quick-mix superstars ready to take Bollywood into the next generation. He's occasionally likeable, she's undeniably attractive. And that's that. As said, they're alright.

The problem lies with their puppeteer, the all-conquering badshah of bluster. Sanjay Leela Bhansali [Images] takes Fyodor Dostoevsky's White Nights -- a stark, lovely story about romance born and rekindled over four nights -- and, picking out its barest heart, proceeds to smother it in mixed-up layers of trite melodrama. And money. And so this soft core, this tender tale, is hidden -- under several reams of indiscriminately wrapped silk and velvet, of loud noise and harsh light, of bewildering backdrops and the colour blue -- so deep beneath smug self-indulgence and a bizarre budget that you can't even hear the heartbeat anymore.

The story is simple: a minstrel, full to the brim with can-do enthusiasm, falls in love with a fair maiden. All would be well, except she is awaiting her faraway lover. Doggedly the singer tries to awaken her love, while she loyally stalks the bridge assigned to the some-night rendezvous. Over four nights, love, loyalty and longing are all born and questioned.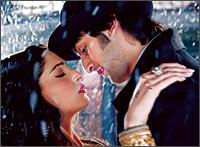 We're told, most redundantly, that this is a tale set in a different world. It is a fairytale realm reminiscent of the classic Prince Of Persia video game, with gondolas and prostitutes scattered around a wet Venetian nightmare. The architecture is whimsical, as is the generous use of flickery neon. Clock towers with hyperactive needles coexist merrily with sprawling mosque courtyards and numerous tiny cobalt by-lanes lead arterially out of the central tiny bridge area, most such roads seeming to lead to the exorbitantly built brothel or the one-resident-only guesthouse. It sounds fantastical and brilliant, and could certainly have been, except it doesn't really have a concept. Or a point.
Thus Omung Kumar gets to play madman art-director, Bhansali letting him go wild and asking only that he be theatrical and sporadic. 'Just paint everything blue and leave lots of room for Raj Kapoor film references,' the brief could well have read. And so runs the gamut, from azure to cerulean, with walls and pillars and peculiar choices of artwork.
And while dollars are positively dripping from the scenery, nothing is spectacular. Remember MF Hussain's Gajagamini? Now replace the high concept in that film with a big budget. The result is Saawariya [Images], an underwhelming waste. Thousands of Bollywood songs are shot with madcap little unreal backdrops; Bhansali has just used one of those for his entire film. One imagines it'll be a while before Sony Pictures grandly bankrolls another Indian project.
Black, flaws and all, was very well shot. Here one can imagine cinematographer Ravi K Chandran stifling a yawn. And if, for God's sake, you're building an absurdist city-of-many-cities, at least leave physical room for some mindblowing camerawork. There are a few -- four, count them -- well-executed shots in Saawariya, most of them simple cutaway shots. What in the world has been thought-through in this movie?
Not the characters, certainly. Ranbir's Ranbir Raj tells Sonam's Sakina that she knows everything about him: his name, where he lives, what he does. One assumes that is all there exists in their character sketches as well. Oh, and the boy is told to be restless, the girl, patient. Outside of that, there is no depth, despite the actress' limpid eyes and the actor's sometimes cheeky grin. These are cardboard characters, lazily written and ineffective. In a stylised world impossible to relate to, at least the protagonists should have been flesh and blood.
Instead, the director hams.
Sanjay Leela Bhansali needs to be thwacked with a subtlety stick, much like Sakina messily beats carpets hanging around her. Everything is overblown and hyper-real in the director's head, and there is no room for soft reality. The characters populating his movie, therefore, cannot sob without hysteria or laugh without sliding off a chair. A glare is held for ten minutes, a coy glance for five. And the dialogue is immeasurably grating, making the film's sub-130 minute length seem twice as long.
It is a testament to the star-kids, then, that they've gamely gone through these dizzying motions without afflicting career hara-kiri. Ranbir, playing a character labeled over-lovable from start to scratch, is often painfully exaggerated and moronic, but he does salvage a few moments of charm where you feel for him -- even if only sympathy at his debuting in this production. There might be hope, sure. But then there's that towel song, the most homoerotic picturisation in Hindi cinema, which could likely take a few years to live down.
The gorgeous Sonam Kapoor [Images] is armed with a great laugh -- almost as infectious as her father's -- and one wishes she was allowed to simper softly, instead of having a clearly overdubbed plastic giggle plastered onto her. She has the worst lines and moments in the script -- save for Rani Mukerji's [Images], where Bhansali clearly cashed in all his Black chips -- but there is a merciful agility to her movement, a fluidity to her style. It is a character impossible to like, and yet she warms you up to her.
The only times in the film the kids really, really work are when the tension abruptly breaks and they burst into laughter. It is almost as if -- or, possibly, because -- the director yelled cut and two old friends dropped the painful masks and chilled. God, how much better a Jab We Met [Images] style debut would have been for these two.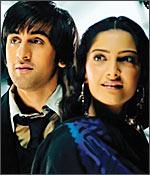 It's hard to fathom what Bhansali expects anybody to like in this film. With close to a dozen songs assaulting us once every seven minutes, on average, there is no room for the narrative to flow. The background score is deafening, and the writing is so emotionally manipulative -- wait for the way Ranbir convinces Zohra Sehgal to let him bunk with her -- it makes you want to pen down an alternate script in immediate protest. And, despite conjuring up moments with legends like Sehgal and Begum Para -- irresistible when devoutly mouthing Mughal-E-Azam dialogues -- these are too few and far between. Are we actually supposed to enjoy Ranbir doing dad Rishi's rabblerousing lines from Karz, or laugh at Rani's pathetic half-malapropisms? Please.
What's the deal, Mr Bhansali? This isn't a Luchino Visconti remake, as many had feared, but a bizarre reworking, an overbaked version of a very simple romance. Dozens of dancing prostitutes do not a Federico Fellini make, sir.
This film opens with Ranbir, off-screen, persuading a whore to listen to two lines of song. She deigns to listen and he picks up his blue six-string. And instead of an eager-to-please youth fumbling with a scratchy guitar, we get -- after a sudden title screen with the star-kids' name, a la Rajnikanth [Images] -- a mega song-and-dance production, a full-blown intro. No wonder the heartbeat is muted.
As Gulabjee, lady of the night, would say, I don't likes.
Rediff Rating: