Home > Movies > Report

When Ranbir's butt was the only highlight of a soulless Saawariya

Arthur J Pais in New York | November 08, 2007 15:22 IST



Just as Ranbir Kapoor was to drop the white sheet wrapped around his waist, a man in the row in front of me woke up his companion, saying almost breathlessly, 'Dekh, dekh, bilkul nanga hai' (Look, look, he's completely naked).

The brief nude scene -- which in India has been smudged -- could be one of the highlights of the visually sumptuous but soulless film, Saawariya. The movie has received PG rating in America for its 'thematic elements, brief nudity, some language and incidental smoking.' PG means parental guidance is recommended.

Most Hindi films in America are released without an American rating; for instance, even a child could have walked into the theater showing Omkara [Images], a brilliant but also a highly raunchy and ultra violent film. Since Saawariya [Images], Sanjay Leela Bhansali's [Images] bloated and monumentally boring melodrama, is being distributed by Sony which is an American company, it was imperative that it was rated by Motion Pictures Association of America.

Whether Ranbir's derriere will do anything at all to the film at the box-office remains be seen.

The woman who was woken up told her companion soon after the brief nude scene was over: "I am going to sleep. You can wake me up tomorrow." The way the movie was limping, she felt it would never end. As the lights came on, she was asking: "What did he show this time?"

The film, which inaugurated the Mahindra Indo-American Arts Council Film Festival in New York on Wednesday, received mild applause at the end, with some viewers saying they clapped more to acknowledge the beginning of the film festival. But many viewers thought it was an inauspicious co-venture for Sony.

At least 20 people, out of some 600 at the screening, walked out half way through the film which is about two hours and thirty minutes long.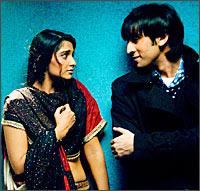 "What possessed Bhansali to make this film!" said a man to a friend. "I think the success of Black went to his head. That film had no songs but here we have nearly a dozen songs. But I can hardly hum any number but for the title track."
It is not that viewers found everything wrong with the film. Some thought Salman Khan, who has just about 10 minutes in the film, was impressive. But why is his character made to be so mysterious? Who exactly is Iman, the character the actor plays in the movie? Why doesn't he tell his girlfriend, who has waited for him for over a year, why he couldn't write to her... Had Bhansali been around, he might have answered those questions.
Earlier in the film, when Iman, a paying guest in the house run by the grandmother of Sakina (Sonam Kapoor), is leaving town he tells Sakina that he cannot speak of the work he is doing for the country. "What happened to that work when he decided to come back for his lady love?" wondered an elderly woman. "Everything in the film seems confusing."
But many people liked Sonam, even though some felt the decisions her character makes in the film are not really convincing. Some felt she had a rare kind of spontaneity; a few said she could become a top star in no time. "These kids are pretty promising," a young woman said. "But they needed a better film."
Many people were disappointed at the climax. "I did not expect the jilted lover to cut his wrist or shoot himself," said a university student. "But the climax is so tame and unconvincing that it ruins the film which was already in much trouble."
As for the grand sets, many people thought in paying too much attention to the production details, Bhansali forgot to give more attention to the screenplay.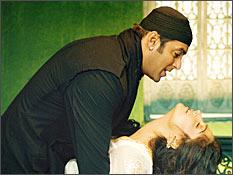 "I haven't read the short story by, by... what's his name, Fodor," said another viewer; he was trying to get the name of Fyodor Dostoevsky whose short story White Nights is acknowledged as the source for Saawariya. 'But I wonder if he could have written a story as confusing as the one in the film.'
Another person said he could understand why Bhansali needed nearly a dozen songs and dances for his film. "The villain I think is the short story that inspired Bhansali," he said. "It is difficult to make a full length film based on a short story or a novella. He would have done better had he used a novel with an intriguing plot."
As for the competition between Om Shanti Om and Saawariya which are being released on November 9 across the world, many viewers thought there would be intense competition between the two films.
"Santa Claus has arrived early this year and he definitely loves Shah Rukh Khan [Images]," said a man who has not seen Om Shanti Om. "But I have the gut feeling that it is going to knock Saawariya flat. At least it won't be pretentious."
But some felt even if Saawariya had been released with no competition, it would have had a tough time wooing audiences.
A young woman who was going through the festival brochure discovered that many awards would be given on November 11, the last day of the film event.
"Is there any award for the most boring film," she wondered loudly. "I would love to nominate this film. I would even suggest its title be changed to SaaBOREiya.'
"It is a colossal blunder," said a filmmaker whose work is being shown at the MIAAC Film Festival and who did not want to be named. 'It is radioactive. But, hey, who knows? Audiences may come to love it because they like Sonam and Ranbir."