Home > Movies > PTI

The 'Al Pacino' of Indian cinema

November 07, 2007 11:09 IST
Last Updated: November 07, 2007 12:18 IST



The 'Al Pacino' of Indian cinema, Kamal Hasan turned 53 today. But Hasan, one of the most successful actors from the south to make it big in Bollywood, has no plans to celebrate his birthday as yet, says a source close to the actor.

"He has flown out of station," adds the source. In his career, Hasan has approached each role with equanimity. From portraying a candyfloss romantic hero running around trees in films like Ek Duje Ke liye and Sanam Tere

Kasam to delving into the dark side of the human psyche in Abhay, he has portrayed every role with equal elan, brilliance and poise.

Hasan, has essayed a variety of different roles in his film career spanned over 38 years but what sets him apart is that he is perhaps the only actor to have captured hearts of people in south Indian film industry while stamping his mark in Bollywood.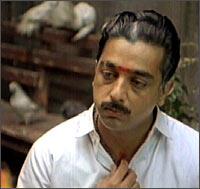 Whether playing an unemployed youth in the 1988 silent movie Pushpak or flaunting a sari in Chachi 420, Kamal Hasan's excellence in roleplay never failed to leave a mark in the minds of audiences.
He is one of the few film personalities who has tried his hands in all aspects of film making, be it direction, lyrics, choreography, screenplay or story writing. He has also lent his voice to a number of songs in films like Abhay, Chachi 420, Hey Ram, Sadma in Hindi and many more in south Indian languages.
Born on  November 7, 1954, Hasan is one of the few actors who always believed in experimentation. He used animation in Abhay, went under the plastic surgeon's scalpel for his role as a freedom fighter in Tamil flick Indian and is playing ten characters in the soon to be released Dasavatham.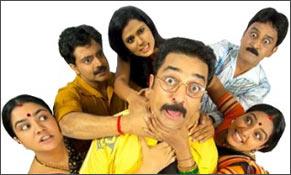 Hasan, a four-time National Film Award winner, began his career as a child artist and initially did a lot of stage plays. His repertoire now boasts more than two hundred Indian films.
He was awarded India's fourth highest civilian honour, the Padma Shri for his services to Indian cinema in 1990.
His film, Nayakan, which won 18 Filmfare awards, has been rated as one of the top 100 films of all time by Time magazine in 2005. Moreover, he is the only actor to have seven of his films being nominated as official entry to the Oscars and also has been awarded 'Living legend in film business' by FICCI this year.
© Copyright 2007 PTI. All rights reserved. Republication or redistribution of PTI content, including by framing or similar means, is expressly prohibited without the prior written consent.