Shah Rukh: Diwali is all mine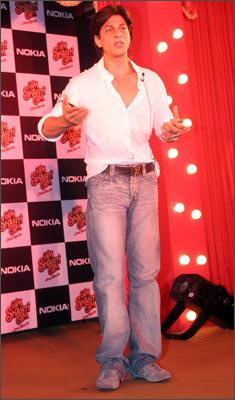 Shah Rukh Khan isn't leaving anything to chance.
Hours before leaving for the London [Images] premiere of his Om Shanti Om on November 8, Khan took the stage at a Nokia event on Wednesday evening in Mumbai's JW Marriott Hotel and decided to give the folks behind rival Diwali release Saawariya something to chew over.
Speaking about his stellar track record with Diwali releases, Khan laughed. "Diwali sirf meri hain. Yeh sirf main manaata hoon," he joked. ('Diwali is all mine; only I get to celebrate it') Khan's jibe is only half a joke. He's had major Diwali hits each time, and his Don last year completely buried Jaan-E-Mann, starring Salman Khan [Images] and Akshay Kumar [Images].
This time, Saawariya [Images] doesn't have star power -- with newcomer star-kids Ranbir and Sonam -- but is a Sanjay Leela Bhansali [Images] Film. Khan said that cinema is about the complete package. "Saawariya may be a wonderful film, lekin 17 saal maine bhi jhak nahin maara." (but I haven't been idle for 17 years either)
There have been difficulties for OSO in getting multiplex owners to agree to their distribution deals, even as Saawariya is picking up the bookings across India. Khan is all too aware, and appropriately quoted the Om Shanti Om dialogue, 'Picture abhi baaki hai, mere dost.' ('The movie is still left, my friend.')
"I am promoting this film so much," Khan said, about the publicity going into probable overkill. "Now I feel all that's left for me to do is write Om Shanti Om on my forehead. People will say 'itna bol raha hai, dekh hi lete hain.'" ('He's saying so much, lets see the film anyway.)
Khan's words pretty much eclipsed Nokia's event, where the firm was tying up with the film and bringing exclusive deals for Nokia customers. As a part of this tie-up, Nokia users can video clips, crazy OSO mobisodes, and animated characters of Om, played by SRK [Images], that can be downloaded by dialling 55555 or from nokia.co.in/oso.
'We are just exploring if mobile devices can take entertainment further. This tie-up is just the beginning,' said Khan. Consumers purchasing select Nokia phones will also get a chance -- via a lucky draw across the country -- to meet King Khan [Images] in person this December.
Photograph: Pradeep Bandekar